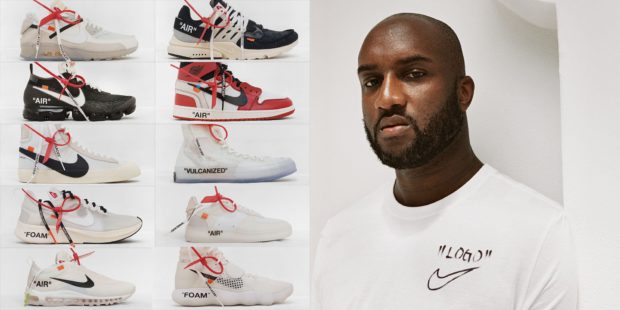 Nobody had a better year in 2017 than Virgil Abloh.
The multifaceted creative's OFF-WHITE label enjoyed great success as his industrial-inspired belts caught fire and became one of the most stand-out accessories of the year, used as everything from purse straps to dog leashes by forward-thinking fashionistas. He traveled around the world for DJ gigs, seemingly landing in a new country and playing in front of raucous crowds every week. And his collaborative effort with Nike, "The Ten", which re-imagined ten iconic Nike silhouettes both new and old was undoubtedly the biggest story of the year in the sneaker world.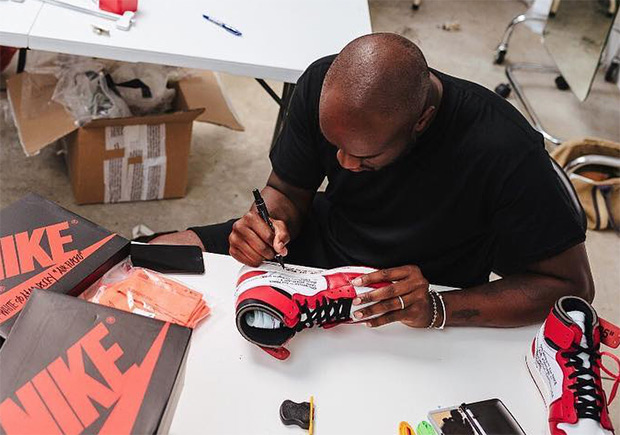 Yes, Virgil Abloh has got it on lock heading into 2018. He's got the business smarts, the design chops, the unique personality, and the aspirational image that a company needs from a leading man, and Nike has thrown their full marketing muscle behind Virgil and his vision. So ask yourself this:
Is Virgil Abloh Nike's new Michael Jordan?
Before you angrily lunge for your keyboard to inform us that we're "lames," "hypebeasts," and "fuccbois" in the comments, hear us out. There's far more similarities between the two than you might think, and the sneaker world isn't the same as it was when Michael reigned supreme in the 80's and 90's.
The game has undergone sweeping changes when it comes to who's making the taste and calling the shots in the last five years. Designers, entertainers, and celebrities are the new star athletes when it comes to moving product. Nobody's looking to the court or field to see what's being worn by LeBron, Odell, or Steph … they're looking to the streets to see what's being worn by their favorite actors, musicians, and influencers.
Kanye West permanently shifted the direction of sneaker culture with his extensive Adidas partnership. Rihanna released a well-received full collection of sneakers and apparel with Puma, inspiring both men and women the world over. Drake gave Jordan Brand a much-needed shot in the arm when sales (and the cool factor) of their iconic retros were starting to fall behind the innovation and creativity of Adidas and the aforementioned Mr. West.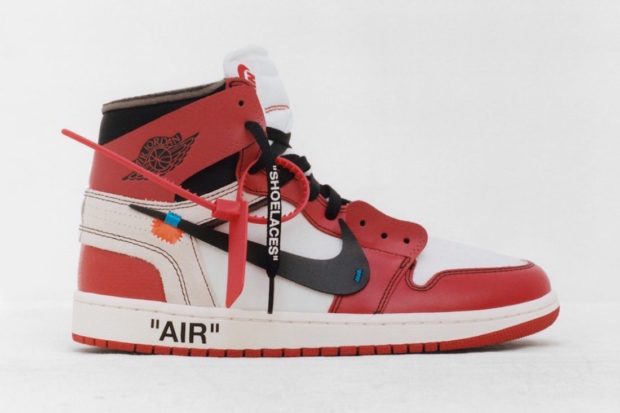 Virgil Abloh's inaugural "The Ten" collection with Nike was a massive success, both from an aesthetic standpoint and a hype/marketing standpoint. Split into two portions, the "Revealing" and the "Ghosting" collection (the former, centered around playing with logos and giving the shoe a deconstructed, handmade cut-and-sew aesthetic; the latter, showcasing translucency with more minimal changes), the shoes were unlike anything that had ever been seen from Nike before, truly unique in their designs. His vision was communicated clearly, and each shoe in the collection connected with sneakerheads and fashionistas all over the world.
And from a pure hypebeast standpoint? The shoes went absolutely crazy. It's safe to say that Virgil has become a skillful master of puppets, as he knows how to drive an Instagram-loving, image-obsessed generation's hype and desire like few others in the game, and that hype was reflected when resale prices soared north of $2,000 for some shoes from the collection the weekend they released (the Jordan I and Presto were the most valuable).
From Virgil's wide network of celebrity friends receiving their hand-signed pairs (adorned with their name written in letters and framed by quotation marks) early to the "OFF-CAMPUS" launch events held in major cultural hubs like New York and London to the extremely limited list of stockists and high demand for each pair the release was a flawless victory for all parties involved, and the shoes are still dissected discussed, and obsessed over on a daily basis months after their release.
When we look back on street and sneaker culture in 2017, Virgil's "STAMP" will be all over it, and with Nike announcing that their partnership will be continuing into 2018 and beyond, "The Ten" could very well become "The Hundred" before we know it. Who's to say with the aforementioned seismic shift in the sneaker game that's taken place over the last few years that a designer (especially one with the level of mainstream celebrity that Virgil Abloh enjoys) can't be the next Michael Jordan when it comes to moving kicks?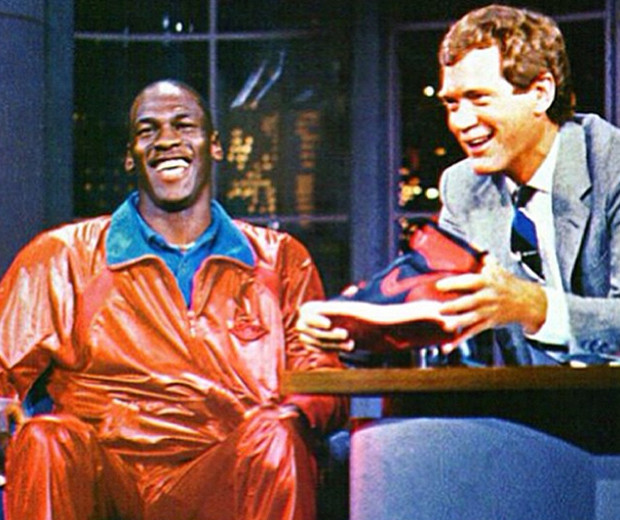 Even on a personal level, there's similarities between Michael Jordan and Virgil Abloh. The lifestyle both portray (or portrayed in MJ's case) to the average consumer is an aspirational one: Michael with the expensive cars, excessive high-stakes gambling and endless rounds of golf, and Virgil with the jet setting, DJing, famous friends, and endless parties, fashion shows and street style pictures.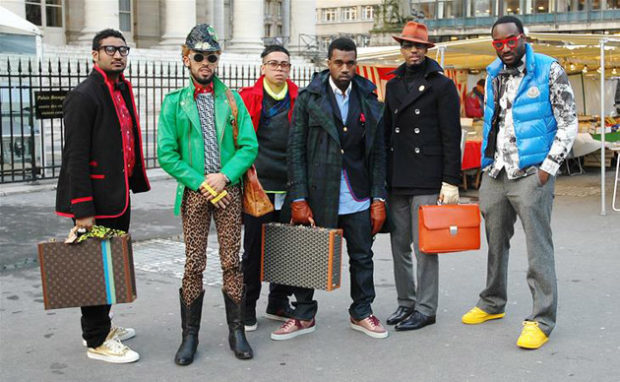 Neither rose to their current level of success without some struggle too, another appealing, relatable facet of their origin stories. Everyone knows the famous tale of Michael Jordan being cut from his high school basketball team as a skinny, slightly undersized sophomore. Early in his design career, Virgil Abloh struggled to shake the untrue stigma that he was just a member of Kanye's inner circle who got by on hype and co-signs instead of actual talent. However, both fought through their struggles and established their place at the top of their respective fields, due to their dedication, skill, and endless thirst for improvement and progression.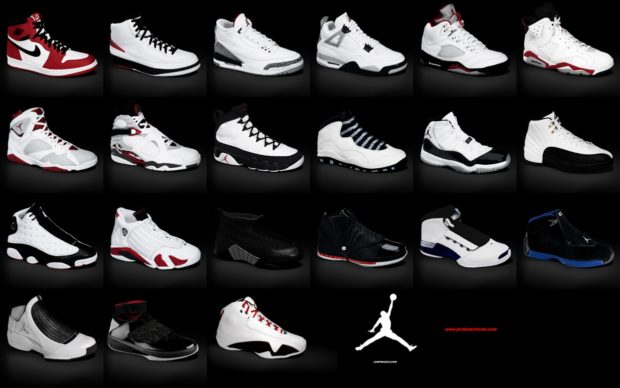 And most importantly, both are associated with products that are simply amazing. Air Jordans, especially 1-14 are some of the most iconic shoes of all time, and are largely responsible for "sneaker culture" being a term in the mainstream lexicon. No Michael Jordan? No Tinker Hatfield? No Jordan III? Then there would be no sneaker culture (at least as we know it today) at all. Virgil Abloh does not yet have an original Nike silhouette, but his unique, well-thought out takes on some of the most classic Nike models ever (and some of Nike's newest models as well) are pushing the culture and the discussion around what makes a great sneaker in a fresh new direction that hasn't been explored before.
The sneaker game has deep roots and a rich history, full of great stories, people, and product. However, its continued growth and evolution is dependent on designers bringing new ideas and concepts to the table, and it's far from outlandish to think that Virgil Abloh's deconstructed designs could be the driving force behind Nike's street credibility and cool factor for years to come, much like Michael Jordan's sneakers were in the 80's and 90's.
He's got the skill. He's got the hype. He's got the great product that's often imitated but never duplicated. If anyone can wrestle power away from Kanye West and Adidas, it's his good friend Virgil Abloh and his former colleagues turned bitter rivals at Nike. A kid from Chicago who grew up idolizing Michael Jordan stepping into his shoes both literally and figuratively for Nike and remaking them alongside other classic models for a new generation? Yes, Virgil is more like Mike than you may think.
What do you think of the partnership between Nike and Virgil Abloh? Do you think that he can help the Swoosh move shoes and stay at the top of the game the same way MJ did, or do you think we're "lames" "hypebeasts" and/or "fuccbois" for making such outlandish statements? No matter how you feel, drop your thoughts in the comments or hit us up and let us know on Twitter. It's an interesting topic, and one that deserves to be discussed at length.
Share KicksOneTwo