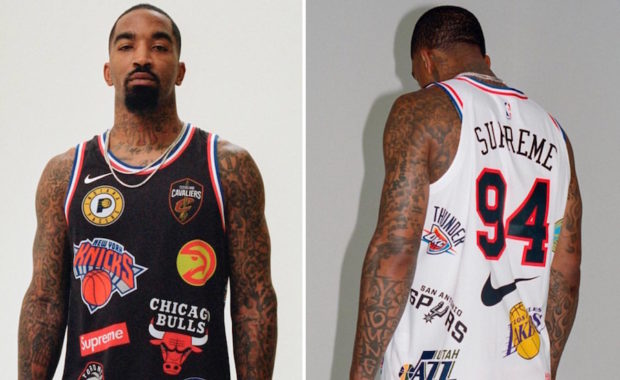 In the world of streetwear, Supreme is the undisputed king of collaboration. With every new season comes a brand-new slate full of collaborative pieces made in conjunction with entities both large and small. Some shift culture on a massive scale, redefining the way we think and talk about streetwear as a whole, while some are little more than a flash in the pan, already forgotten by the time the next Thursday rolls around and a fresh batch of goods (collaborative or otherwise) are brought to market.
The first highly-anticipated collaboration of Supreme's S/S '18 season arrives this Thursday, in partnership with Nike and the NBA. Jerseys, shorts, jackets and an Air Force 1 Mid (available online only), all featuring all-over team logos, a Nike swoosh, and Supreme's legendary box logo. The collection is big. It's bold. It's extremely maximalist, fitting for streetwear's current climate. It's a throwback to the late 90's/early 00's, and … well … we're sorry to say that it's simply not good.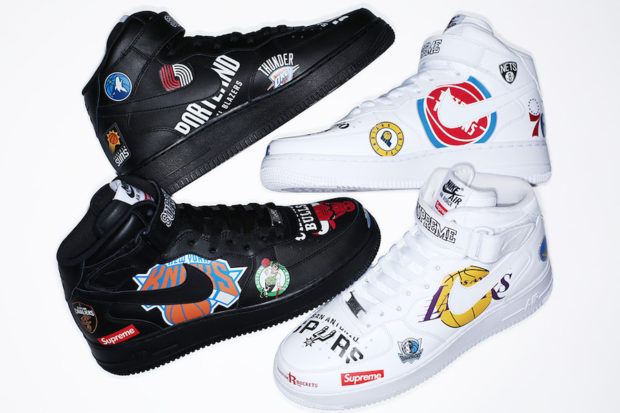 Don't get us wrong: just because we don't care for the collection doesn't mean that we don't love Supreme here at KicksOneTwo. We recently ranked our ten favorite box logos. We discussed our favorite pieces and favorite accessories from the S/S '18 season. We even went over Supreme and Nike's collaborative history on the Air Force 1, a shoe that's at the center of this loud, heavily logo-ed collection. We eagerly anticipate their new drops and collaborations, just like you, our KicksOneTwo family does.
But no matter how much we love Supreme's designs, history, and mystique we've still gotta call it like we see it. This collection just flat-out doesn't do it for us, even though we will admit that JR Smith, one of the only real enigmas left in the NBA getting the nod to model some of the pieces is pretty damn cool. When it comes to any collaborative goods from any brand, there's one indisputable fact: not all hyped collaborations are good, and not all good collaborations are hyped. There are a few hard reasons that this collection misses the mark, so we'll start at the beginning and address them one by one.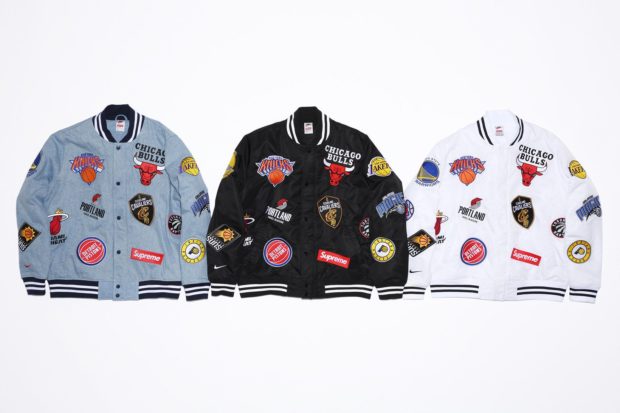 First and foremost: it's a misguided homage to an era that's far better off forgotten. Anyone who was into hip-hop and basketball and came of age in the late 90's-early 00's remembers jeans, shirts, hats, jackets, and shoes (often of questionable authenticity) splattered with all-over NBA team logos. The fact of the matter? The look was terrible then, and it's not any better in 2018. Plus, homages to bootleg street fashion are hard to pull off with any real sense of authenticity as you're essentially making a bootleg of a product that was already bootleg-ing something else, and there's not much to be found here in the way of inspiration. Sometimes the past is just better off left there.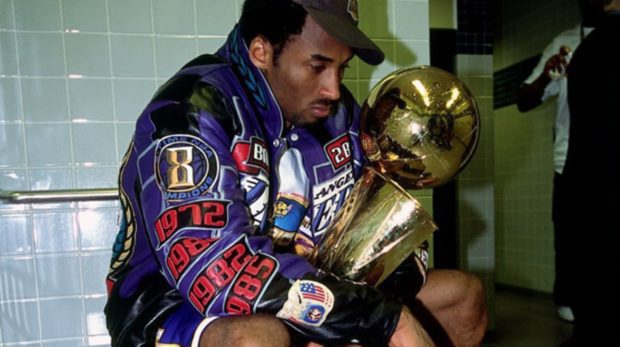 The second issue? Jeff Hamilton, a designer who's know for creating custom leather jackets and originally introduced the polarizing all-over NBA logo aesthetic has still not received any real credit for the designs more than two decades later. Ever see the Diplomats or Kobe Bryant wearing custom leather jackets adorned with colorful patches? They were made by Hamilton. His product is known, but his name isn't.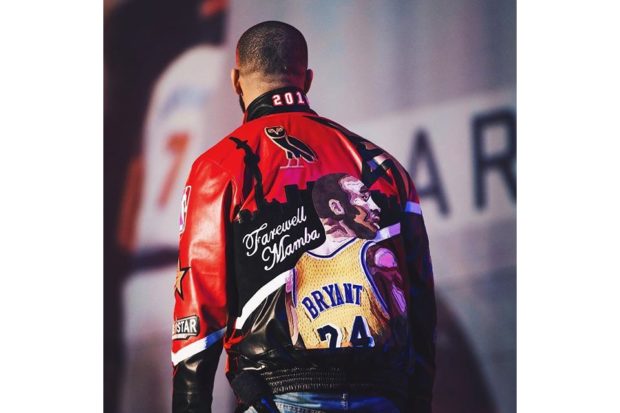 Although he hasn't produced NBA or logo-centric pieces in several years (apart from Drake's amazing Kobe-inspired jacket he wore at 2016's All-Star Game), he did create the all-over logo aesthetic that the collection is built upon, and recently stated in an interview with Hypebeast that he was not contacted by anyone from Supreme (Nike did contact him to ask if he was aware of the shoe), nor was he asked to collaborate on the project even though it was clearly inspired and influenced by his past work.
Not paying homage is out of character for Supreme, a brand that's typically very open about their artistic influences. Hamilton may not be a household name on the level of some of Supreme's other inspirations, but he did create an aesthetic that's immediately recognizable and therefore should receive more credit for the collaboration coming to existence. If Gucci can acknowledge Dapper Dan's influence on their products, Supreme, Nike, and the NBA can and should give Hamilton the credit that he deserves for inspiring their collaboration as well. A simple "inspired by Jeff Hamilton" byline would suffice.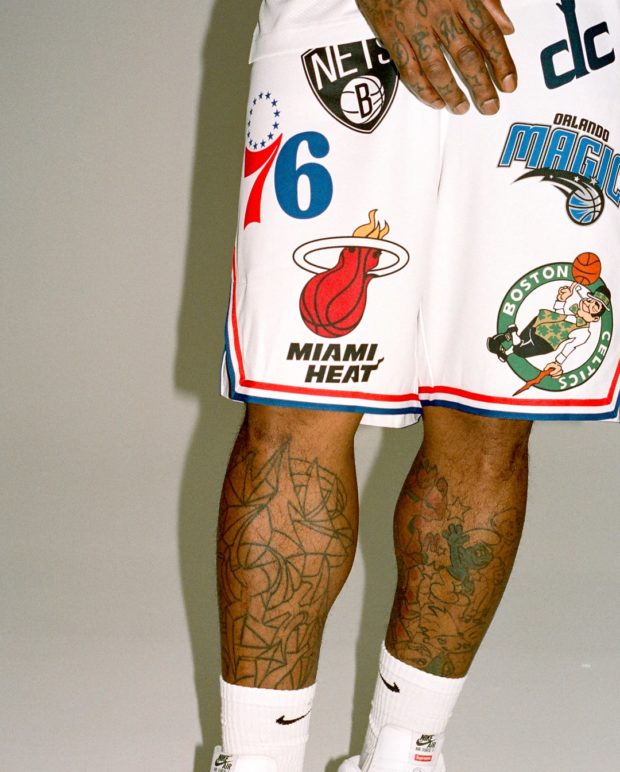 And finally? Any way you slice it the pieces in the collection are just flat-out undercooked. We expressed our misgivings regarding the design and the silhouette choice of the Air Force 1 Mid in an earlier article, and the rest of the items? They're simply too busy, and all appear to be nothing more than a jumbled collage of logos and branding.
You don't need multiple team logos AND a gigantic Nike swoosh AND a Supreme box logo to boot. There's a difference between maximalist fashion and looking like a walking billboard for a corporate entity, and this collection toes a bit too far towards the wrong side of that line. And from a technical standpoint, the materials used in the collection don't work either. These are homage pieces, inspired by a retro look … so why are they presented on new Dri-Fit jerseys and shorts with sublimated logos? A more appropriate homage would be embroidered patches on a traditional mesh jersey, just like the OG pieces they draw their inspiration from. Thankfully at least the jacket presents embroidered graphics.
Only time will tell how the Supreme/Nike/NBA collaboration is received by the general public and what its legacy will be after the season is over. It may fade away, or it may become a reference point in Supreme's 20+ year history, but no matter what happens it's simply not their best work. We'll admit that we could see why someone might like it, as nostalgia is indeed a very powerful thing (look at the staying power of 90's vintage clothing!) but the collection's designs flat-out doesn't deserve the amount of attention it's receiving from the general public. The hype around the collection is built on brand names, not on fresh, innovative design.
Oh, well. What can you do? Even the G.O.A.T. misses some shots sometimes. Even though we're not fans of the collection we still love Supreme nonetheless, and you already know that we'll still be on our computers furiously refreshing Thursday morning in the hopes of acquiring a few new pieces … we just aren't going to be gunning for anything from the collaboration.
What do you think of the Supreme/Nike/NBA collaboration? Are you a fan, or do you think it's overdone? Do you think it's wrong of the brands involved to not pay the proper homage to Jeff Hamilton? We'd welcome your thoughts on these topics either way, as the collection and the story behind it offers very interesting points of discussion. Sound off in the comments or hit us up and let us know on Twitter!
Share KicksOneTwo