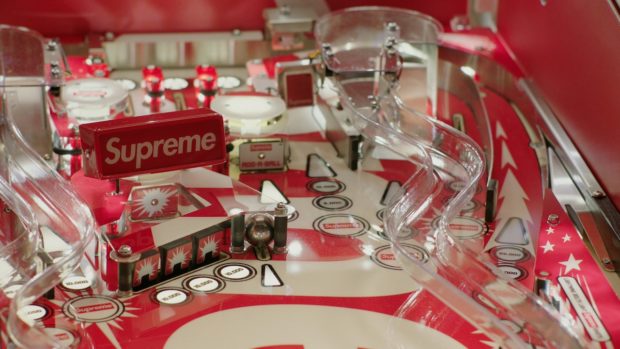 It's the undisputed truth: No brand in the world produces better accessories or lifestyle items than Supreme. Season after season, year after year, Supreme brings clever, funny, ironic, and (occasionally) surprisingly useful items to market, all adorned with their signature touch, and usually sporting their iconic logo and infamous red/white colorway. There's a lot of excitement around their S/S '18 clothing but there's even more anticipation around the accessories, as this season presents a wide variety of great trinkets and knit-knacks, from small to gigantic.
So we're doing what we do best here at KicksOneTwo. Just like we did with the clothes yesterday, we're listing our favorite accessories, and just like yesterday, they're in no particular order. Let's go ahead and get right into it. There's really something for everybody here.
Honorable Mention: BACtrac Go Keychain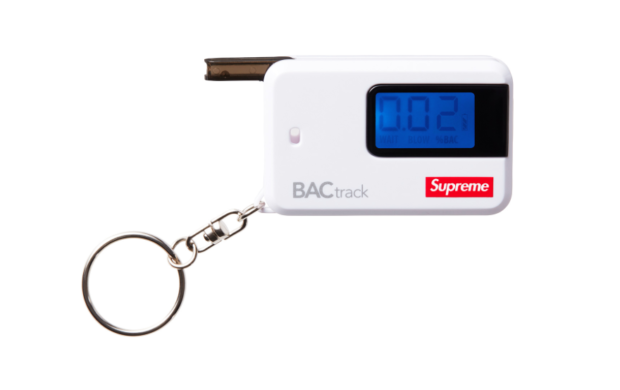 Onny Supreme could think of something like this. Only Supreme would be cheeky enough to adorn something as stiff and serious as a breathalyzer keychain with their signature box logo, immediately turning it into a parody of itself. Although this device is supposed to let you know what your BAC stands at so you can know if you're legally safe to drive or not we'd assume that most people who buy this will either see how high of a number they can hit on it or carry it around strictly for the sake of irony.
Logo Zippo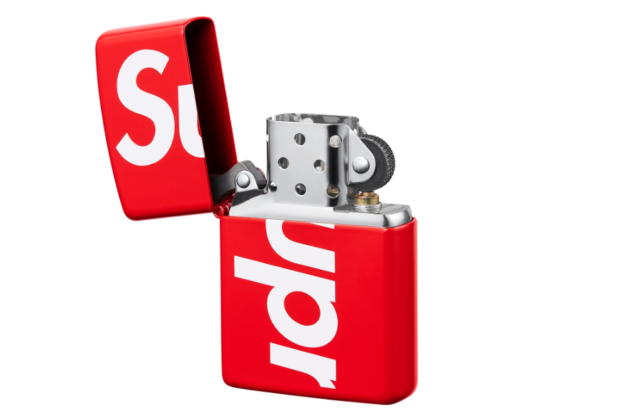 Even if you're not a smoker, you've got to acknowledge that the classic Zippo lighter, originally introduced in 1933 is one of the most iconic and well-designed products of all time. It's classic and has always been a marker of cool no matter if you enjoy lighting up a heater every so often or not. What's the only thing you can do to make something that iconic cooler? You guessed it: throw a Supreme logo on it. The large, bold graphic hit and red steel case make this little lighter one of the more head-turning pieces of the season, and we imagine that the resell value of this little guy will spark up (see what we did there?) almost instantly.
 Rawlings Catcher's Mask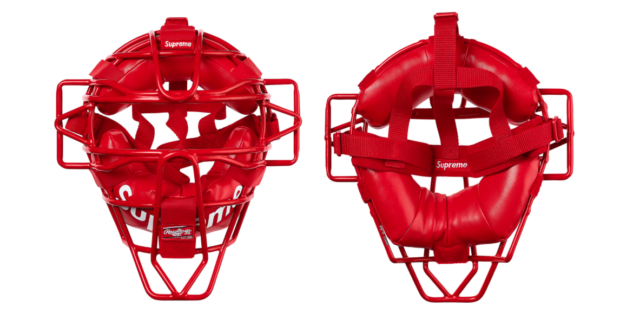 Supreme has shown love to the great American pastime before, releasing everything from a glove to a ball to a bat, but now you can complete your baseball set with an all-red catcher's mask. This is an item that really has no practical use unless you want to be the most flexed-up person at your beer league softball game (could you bring yourself to tear this off and toss it in the dirt to catch a pop fly?), but just look at it. It's so damn amazing. Will we be lucky enough to see a major league catcher rock one of these to spring training this year? It's not out of the realm of possibility.
SOG Hand Axe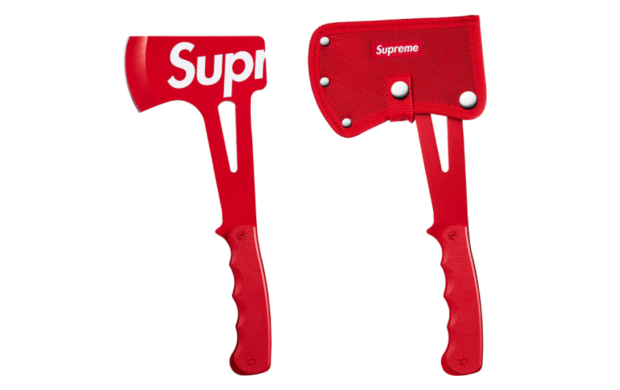 Last season's SOG shovel was a hit, and this season's hand axe (can we just go ahead and call it a tomahawk? Tomahawk sounds so much cooler than "hand axe") should see even more success. No matter if you chose to display this, take it camping (do any KicksOneTwo readers go camping?) or do your best Jack Nicholson impersonation and use it to chop down a door, you'll be performing your activities in style.
Advanced Elements Packlite Kayak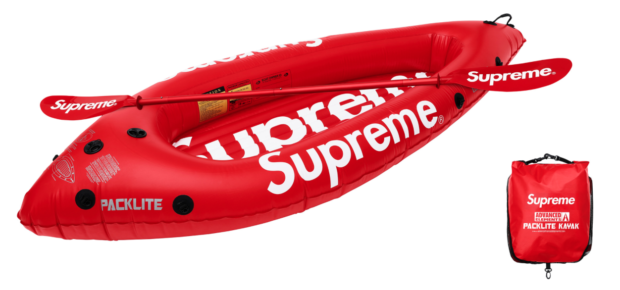 Question: who really needs a packable kayak? Answer: who cares?? Just look at this thing. You know you want it, even if you've never paddled a boat in your life (you're not missing much). This is a heavily branded, fully packable kayak that seats two and can fit in a small bag so it doesn't have to take up all your free space. You even get a collapsable oar, so it truly is a two-for-one purchase. This is a perfect example of a supreme "accessory" that's so otherworldly and nonsensical that you simply can't not love it.
Stern Pinball Machine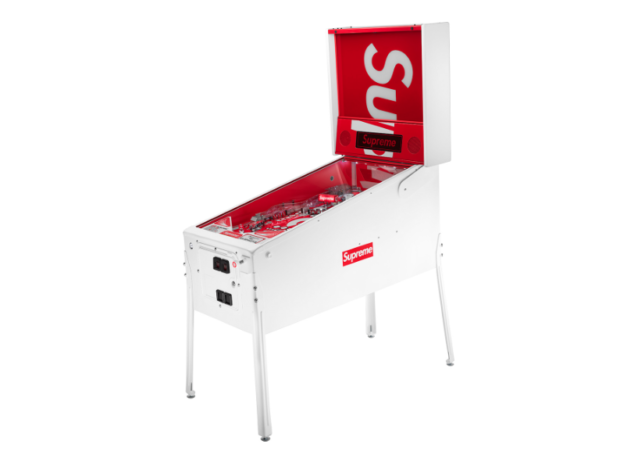 This Supreme pinball machine isn't just the best "accessory" of this season by a long shot: it's the best "accessory" of the last few years. A full-size, fully functional arcade style pinball machine, this Supreme and Stern collaboration is enormously cool, and will likely be enormously expensive, as normal pinball machines can run anywhere from $5-8K. Who's going to get their hands on one of these? How will it ship? Are they ready to go or made-to-order? Will there be one in Supreme stores available to play? Will your local bar do every hypebeast in town a solid and get one (and can you imagine the money they'd be making if they did)? There's a lot of questions surrounding this amazing machine that need to be answered, but we do know one thing: we're trying to play a game on one of these as soon as humanly possible.
What's your favorite accessory from Supreme's S/S '18 season? How much do you think the pinball machine will cost? Sound off in the comments or hit us up and let us know on Twitter!
Share KicksOneTwo