It's still something that's tough to wrap your head around. $400? Retail? For a JORDAN? Yeah, you heard it right. The Jordan Shine, Jordan Brand's first foray into the luxury sneaker market that's mainly occupied by brands like Balenciaga, Buscemi, and Filling Pieces and  will cost $400. Some think it's a great idea. Others aren't so sure.
I think it's a cool idea if nothing else. Jordan Brand obviously has a tremendous amount of influence with almost any product that they put out, and if they think they can break into the luxury footwear market, they're most likely right. However, you can't help but wonder: are sneakerheads ready to spend $400 (that's box price, not resell) for a Jordan?
I guess we'll see. I did have the chance to get an early look at the shoes, and had them in hand. The quality of the leather is impeccable (you can tell by the smell they give off. Sounds a little weird, but it's true. Higher quality leather has a different scent), and the overall look of the shoe is very cool with the woven pattern on the upper. The black was solid, but the red was grade-a crazy in hand.
Only time will tell what the reaction to Jordan Brand's first excursion into the high-fashion sneaker market is, but it'll be interesting to see what the response is to this new type of Jordan sneaker. In the event you haven't seen what the shoe looks like, peep the picture below.
-RDwyer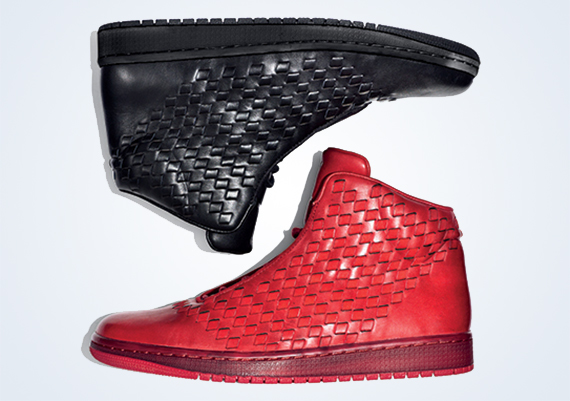 Share KicksOneTwo