Maybe some of you are sitting at home with a new shoebox beside you while you're reading this. Maybe some of you are sitting in front of your computer shaking your head after striking out on NDC again. Either way out of it, you already know. The Jordan XIV "Ferrari" dropped today (to much acclaim) and it's a beautiful sneaker.
Most sneakerheads were vastly in favor of the shoe, and I'd say that I'm among that number. However, there are things that go both ways about this release in my opinion, and I'm sharing them here.
First off, the good things. I've always thought that the Jordan XIV was a very underrated model, and it's nice to see it get some of the shine that it deserves. Most "Jordan collectors" only seem to really care about the I through the XII (why is that? Never understood that whole mindset myself), so it's refreshing to see a later model get some love. It's also a nice nod to the original design of the shoe, as the XIV was inspired by a Ferrari F355F1 that Jordan owned while he played for the Bulls.
Now, on to the not-so good things. $200? Damn. Although Jordan Brand is using "premium materials" on this sneaker which always increases the cost, it's still a tough pill to swallow to pay $200 box price for a sneaker. Some wallets were stretched awfully thin today. Another very small complaint…more all red? Seriously? Here's hoping this whole all-red sneaker thing goes away sooner rather than later. It's starting to get slightly tiring.
Congrats to those of you who managed to cop today! For those who didn't, here's an image of the sneaker in all its glory. Apologies for any hurt feelings.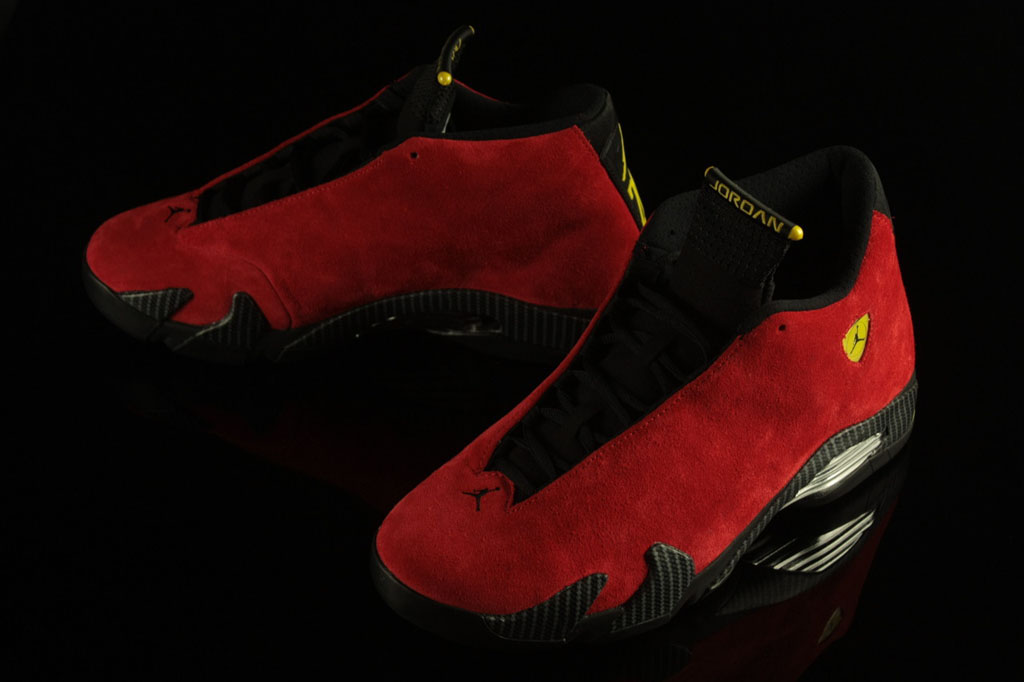 -RDwyer
Share KicksOneTwo