We're down to the top two.  Biggie or Pac? LeBron or KD? Who's #2 and who's #1?
After careful deliberation between all the dope kicks that released this year, I was finally able to get it down to 2, and this was the hardest decision on the whole list hands down, as the two top shoes of the year were neck and neck (you'll find out which shoe took the number 1 spot later this week of course).
Without further ado, coming in at a very close second on the Best Sneakers Of The Year list is the Jordan I SB "Lance Mountain" in the "Black" colorway.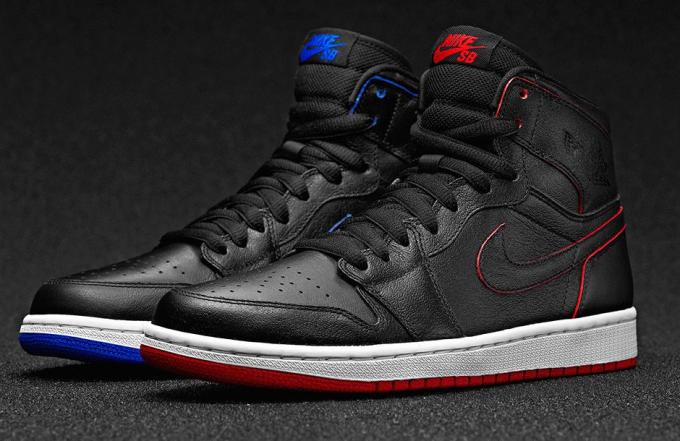 Don't get me wrong, I love the white pair too, but the black pair is much more crispy. There's something to be said about that all black upper with little hints of the red and blue underneath the black paint.
This was one of the most innovative ideas in sneakers this last year. Taking inspiration from the way Lance Mountain of the legendary Bones Brigade wore a mismatched pair in the classic skate video "The Search For Animal Chin", a mismatch of one black/blue and one black/red shoe was offered up.
However, they were made even more unique by the fact that they were covered by the layer of black paint that was supposed to come off after skating. Most people who bought the shoes couldn't skate, so they used everything from fingernail polish to acetone to get the paint off and get at their mismatched pair.
These shoes had sneakerheads of all types fiending like few other pairs that released this year. With more and more new sneakers dropping every weekend, it's rare to find a shoe that innovated and brought new ideas to the table while still paying homage to the past. That's why the Jordan I SB "Lance Mountain" is my #2 shoe of 2o14.
Questions? Comments? If so, feel free to leave them below as always. And be ready for the #1 sneaker of 2014, coming later this week!
-RDwyer
Share KicksOneTwo