Here we are. The #1 shoe of 2014. In a year of crazy designs and innovation from what seemed like almost every brand, there was one shoe that stood above the rest. There really isn't even any argument to be made. The #1 sneaker of 2014 is unquestionably the Nike Air Yeezy 2 "Red October".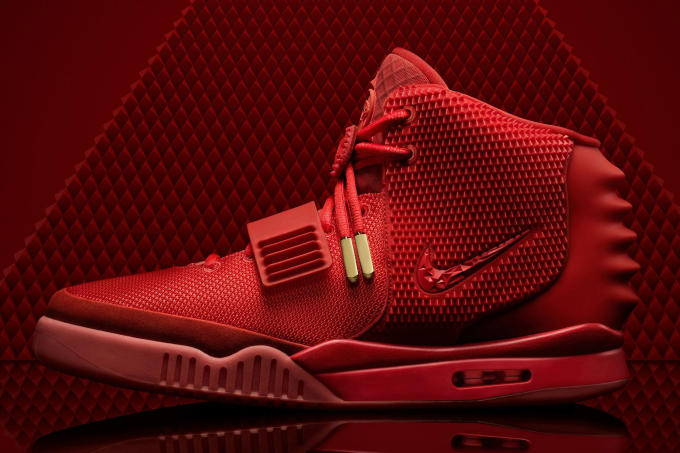 No other shoe had the all-encompassing effect that the Red Octobers had on the sneaker landscape this year. Nike made a big splash when they dropped them on that fateful  Sunday in February (the 9th at exactly 1:00 PM ET for the perfectionists out there) with no advance warning. With the sneaker game the way it is currently, it felt only right that the release of the most anticipated shoe of the year (and maybe even the last couple years) was on a totally random day with no advance notice.
The Red Octobers had a seismic impact on the sneaker landscape as a whole as well. All-red colorways were suddenly in vogue, and stayed that way all year, as everyone from Ronnie Fieg and Kith to Jordan Brand cranked out all-red sneakers. The trend doesn't seem to be dying down either, heading into 2015 with a full head of crimson-colored stream.
All that aside, it's an excellent pair of kicks as well. From the midsole/outsole borrowed from the Air Tech Challenge 2 to the scales around the ankle and gold-tipped laces, it's an absolutely beautifully designed pair of shoes. Hats off to Yeezus Christ for designing a timeless pair of shoes that will forever be remembered as the best colorway of one of Nike's best models.
And that concludes the Best Sneakers of 2014. With everything from fresh colors of retro sneakers to brand new models, it was a great year for shoes and the sneaker culture. Here's to hoping 2015 is as fruitful!
As always, if you have any questions, comments, or opinions, feel free to leave a comment or hit us on Twitter!
-RDwyer
Share KicksOneTwo