They're here. They're all blue, the leather is buttery and in a quilted pattern, and yes they're expensive.
With Jordan Brand officially unveiling the "Just Don" II's yesterday (with a release date of January 31st for anyone who's curious), I thought that it was only right to share my thoughts on them. Sneakerheads as a whole seem to have pretty mixed feelings, so I'll be throwing my two cents in.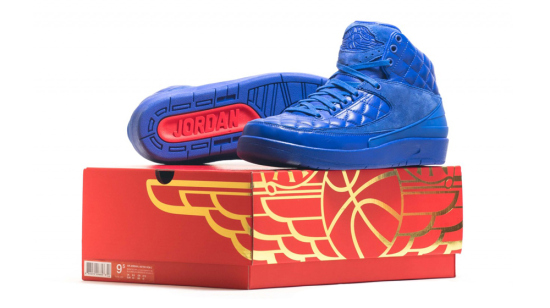 First off, the shoe certainly looks premium. The leather appears to be rich and buttery, and the hit of suede on the side looks very lush as well. These cost $275 for a reason. There were premium materials used all over, and that will always come at a fairly steep price. Secondly, the blue shoe wave just might be starting with these. A few months back, I said that blue shoes would be hot in 2015, and these might just kick off that craze.
Secondly, (and this is more of a personal issue), I don't understand why so many people are complaining about the price tag of the shoes. As anyone who follows fashion knows, Just Don is a very expensive brand. Their hats are made with premium leathers, and that puts the price around the $500 range. Therefore, it would be safe to assume that the shoes would be expensive (as would the matching  jacket and hat that will be releasing), but people still seem to be upset. If you want quality, sometimes you have to pay out the nose for it, and these shoes are an example of that.
All in all, they're a very solid shoe. The quality and construction appear to be on point, and the mix between an athletic shoe and a high fashion brand is a good look. Will you be trying to cop? Let K12 know in the comments!
-RDwyer
Share KicksOneTwo