If you've been within five feet of a computer sometime in the last day, you've already seen the news blasted at you from seemingly every site on the internet. Yes, it's happened. Yeezy season just might be upon us (if it ever ended in the first place).
As you already know, supposedly the first images of the hotly-discussed Adidas Yeezy 3 have surfaced. IBN Jasper, Kanye's longtime barber and friend uploaded six different pictures of the Yeezy 3 on his Instagram, and threw the sneaker and hip-hop world into a frenzy. People have been speculating what the shoes would look like ever since Kanye left Nike to join forces with the 3 Stripes, and now the speculation can finally come to an end. If you've been cut off from pop culture for the last 24 hours, here's a snap of the shoe so you can see for yourself.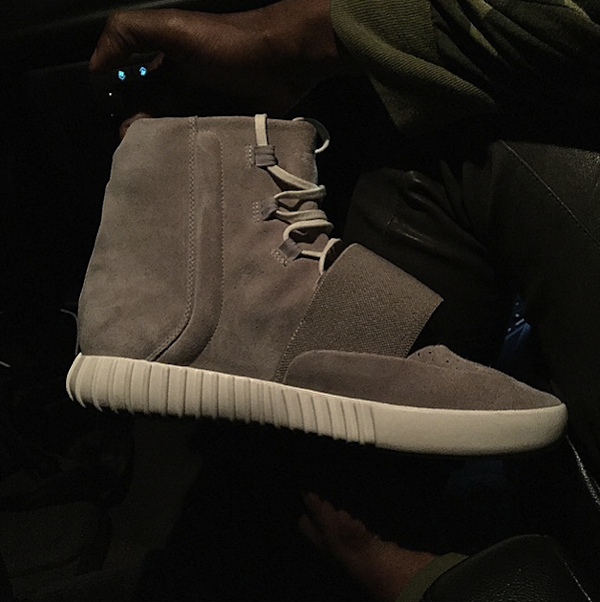 Probably not exactly what you were expecting, right? Kanye and Adidas seem to have gone the high-fashion route, as the sneaker doesn't have the sport-inspired look that was present on the Yeezy 2's. The shoe seems to be taking more of a high-fashion route with the super-high, almost boot-like cut and the use of what appears to be premium suede or nubuck of some sort on the upper. However, comfort should not be lacking on these kicks, as indicated by another picture that shows what appears to be full-lenght Boost cushioning on the bottom.
What's my initial reaction to these shoes? I might be in the minority, but at first glance, I actually kind of like them. Kanye has always been known for his impeccable fashion sense, and it's kind of neat that Adidas seems to have tapped into that for their first shoe together. This might not be a shoe for your everyday sneaker head, as you would have to put together a solid outfit to pull a sneaker like this off.
Although most people's initial reaction to this sneaker seems to be somewhat negative, I think that with time most folks will come around. At very least, it's nice that Adidas and Kanye made an attempt to stray off the beaten path and do something a little different. The worlds of high fashion and sneakers are fusing together more and more every day, and this seems to be a big step towards bringing these worlds together.
Or who knows, maybe it's just a very masterful troll. IBN Jasper and Kanye could be getting a good laugh out of making the internet explode. Kanye is an excellent businessman, and maybe he's just trying to raise the hype for his first Adidas model even higher than it already is. There's no such thing as bad press, and the more his signature sneakers are talked about, the better it is for him and Adidas.
Any way out of it, it'll be interesting to see what happens from here. With New York Fashion Week fast approaching, it's very likely we'll be hearing more about the Yeezy 3 and the Kanye/Adidas partnership.
What do you think about the shoe? Ugly? Excellent? Trolling? Leave us a comment and let us know! And be sure to keep it locked right here. I'll bring thoughts and opinions on any further major news regarding this collab.
-RDwyer
Share KicksOneTwo