They're back.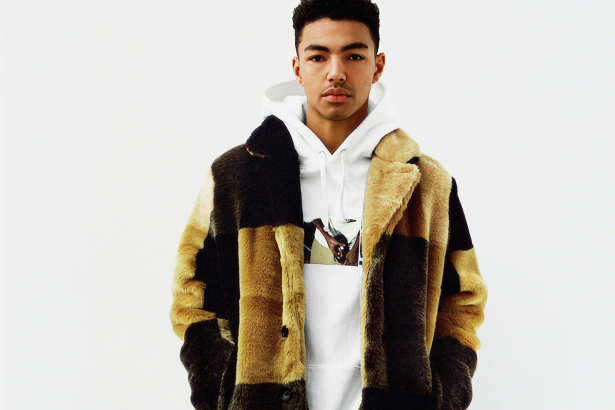 After what feels like a long hiatus (even though it was just a few months), Supreme is back with their latest offering, the Spring/Summer 2015 collection. In classic Supreme fashion, there's plenty of collabs, random yet tasteful accessories, and a wide variety of garments, from soccer goalie jerseys to a faux-fur coat. If you haven't seen the lookbook yet, it's available on Supreme's home page as well as Hypebeast.
As a whole, I think Supreme did a very solid job with this collection. There are a few really solid graphic t-shirts (my two favorites are the "You're not living until you're living for Supreme" and the "Fuck You We Do What We Want" tees), the hoodies seem to be on point (if not somewhat safe), and on the headwear front there are a plethora of dope camp caps, snapbacks, beanies, bucket hats and the usual one fitted to chose from as well.
So, like usual, Supreme did a pretty good job with their basic offerings for this season. However, if there's a weak link, it just might be the outerwear.
The collaborative Schott leather jackets are nice, however the faux fur coat in image at the top of this article is somewhat of a head-scratching decision. This is supposed to be a spring/summer line, right? So what's up with all the heavy outerwear? Of course you want to have jackets in every line, but one could be forgiven for thinking this was a fall/winter lookbook with the thick coats that are being made available.
The Neil Young collaboration t-shirt is a confusing piece as well. It's likely that the hypebeasts who will be thirsting over this shirt haven't ever heard a Neal Young song, and there's also a pretty good chance that they don't even know who he is. I'm not against the shirt, I just think that it's a rather strange choice for a collab tee.
And finally, the White Castle gear? I love some piping hot sliders as much as anyone else (actually, more than anyone else as it's my favorite fast food hamburger joint), but who's going to want to pay a premium to look like a White Castle employee? Swing and a miss.
So here we are. All in all, another damn solid collection from the folks at Supreme. Do you have a favorite piece? What are you planning to cop? Drop a comment below or hit us on Twitter to talk a little 'Preme!
Oh, and a quick heads-up: the Supreme S/S 2015 collection will be available online February 26th. Start setting aside some money if you haven't already.
-RDwyer
Share KicksOneTwo