It's seemingly the only shoe that's been discussed these last few weeks. It's being discussed in Facebook sneaker groups, barbershops, and boutiques all over the world. It's the Yeezy 350 Boost, the most anticipated shoe of the last few months by a long shot.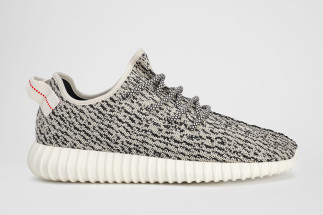 Opinions vary from extremely positive to exceptionally negative. The shoe's supporters will say that it's a great representation of what Kanye is trying to achieve with his new Adidas line (while also incorporating Adidas's newest and best technology), while its detractors will say that it looks like a Roshe Run knockoff, and is just flat-out ugly.
What do I think? Well, I think it's a dope shoe. I'm a big 'Ye fan, and I think this shoe is true to his current aesthetic, minimal but high-quality and fashion forwards. On the technological side of things, I love Boost foam (best cushioning system on the market as far as I'm concerned), and am excited to try out a shoe with Primeknit as well, as I've never owned one before.
I can also tell you that the thirst is VERY real for this shoe. I've been asked about it at least ten times this week. There are other crazy shoes that are dropping this weekend, like the "Shattered Backboard" Jordan I's, but even a shoe that's absolutely insane like those just can't keep up with a sneaker that has Ye's stamp on it.
Another thing I'm interested to see is what the resell market is going to be like on these. There's a very high demand (of course), but for the first time in a while, it's looking like there might be a high supply as well. Will resellers be able to move the shoe at their usual outrageous prices? I'm hoping not…but we'll see.
Any way around it, this is shaping up to be the most interesting release of this year so far. I know I'll be online frantically refreshing my computer at 8:58 so I can grab a pair….and may the Force be with you if you're trying to do the same.
-RDwyer
Share KicksOneTwo