So you've got a pretty good shoe collection. You've got love for everything from classics like a Jordan I to the latest and greatest in performance basketball shoes like a LeBron XII. You know what shoes to wear when, and you feel like you've got a shoe for almost any situation.
But there's just one small thing that you can't help but feel like you're missing out on. You want a sneaker that you can wear when it's time to dress up a little bit. You are a sneakerhead, after all. Wearing loafers or wingtips just isn't your style.
Never fear. There's plenty of great options when it comes to high-end, high quality designer sneakers, and KicksOneTwo is here to quickly walk you through your options. We've even included links to web shops where these kicks are sold.
The first thing you need to decide is what kind of look you're aiming for. Want something understated, clean but high quality? You can do a sneaker like the Common Projects Achillies Low ($400), the Filling Pieces Mountain Cut ($230), or for a fantastic value sneaker the Greats Brand Royale ($159).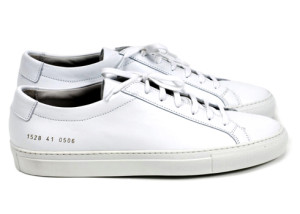 Possibly something a little louder and more colorful? Designer sneakers offer loud, in-your-face colors and silhouettes too. If you need to spice up a fit, look no further than the Balenciaga Arena High ($585), the Saint Laurent SL/10H ($645), or the Salvatore Ferragamo Night Gancini ($995)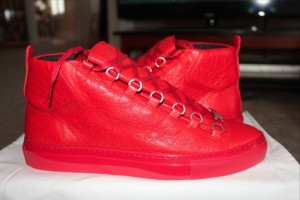 Yes, designer sneakers are expensive, and yes, you are paying for a brand name to a certain extent. However, you will find quality that you simply don't see on your everyday sneaker. The leather on designer kicks is soft and buttery, and will look even better when broken in, unlike your creased-up beaters. If you've got a little extra money to spend and you want to step out of your comfort zone…skip a few releases and try a designer shoe! Switching your game up is never a bad idea.
Share KicksOneTwo