Today's the day.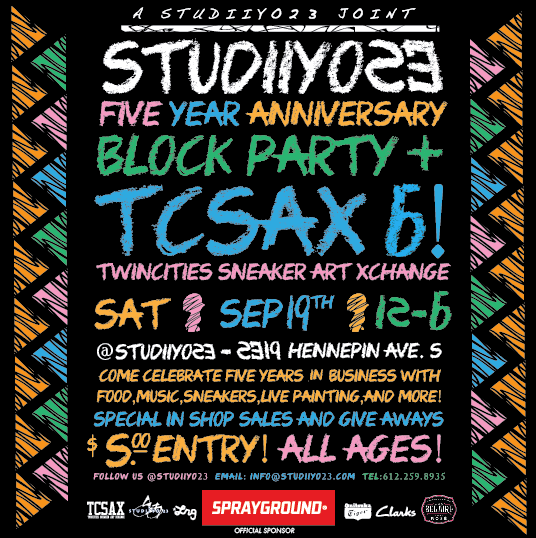 Studiiyo23 is hosting the 6th installment of their Sneaker Art Xchange (TCSAX for short) from 12PM-6PM today, and it's gearing up to be the best one yet. With sneakers, art, food, and music, there's something for everyone.
KicksOneTwo has been in attendance at every single TCSAX to date, so we felt it was only right to give you a quick guide on how to have the best possible time. From what you can eat to what music you'll get to listen to..we've got you covered. Read on, and find out everything you need to know about the premiere sneaker event in the Twin Cities!
Where's TCSAX Located?
TCSAX 6 will be located at the Studiiyo23 home base, 2319 Hennipin Avenue. The shop and the street behind the shop will be all set to provide you with all the wavyness you can handle.
How Much Does It Cost?
Only $5! Bring an Abe Lincoln along with you, and you'll be all set.
Can I Buy/Sell/Trade My Kicks?
Of course you can! Paid admission includes two pairs of kicks, so if you're looking to swap, you can bring your pairs with you. There will be kicks for sale too, both from Studiiyo23 and local sneakerheads who reserved a table.
What's The Music Going To Be Like??
What goes together like sneaker culture and hip-hop? Nothing. A dope lineup consisting of MN's finest hip-hop artists will be blessing the stage all day. Here's the lineup if you'd like to see for yourself.
I'm Going To Get Hungy. What Can I Eat?
If you get hungry, fear not. Red's Savoy is the official food sponsor of TCSAX, and will be cooking up everything from pizza to sandwiches all day. If your stomach starts rumbling, they've got you covered.
Is There An Age Limit?
There's not! It's an all ages event. Bring your son, daughter, mother, grandmother, second cousin, stepdad, hell…bring anyone! The more, the merrier!
Are There Any Contests/Giveaways?
You're in luck if you like free stuff. Onitsuka Tiger and Clarks will both be giving away free shoes, and LRG will be giving away free gear. There will also be a free throw shooting contest for prizes if you think you're deadly accurate from the line.
When Should I Come Through?
Whenever! The event will be popping all day. You'll have plenty of chances to meet dope new people, check out some fire kicks and listen to some excellent music. There's literally no place better to be if you love sneakers and sneaker culture.
There you have it! A quick guide to having the best possible time at TCSAX. If you have any other questions about the event, feel free to hit us up on Twitter, or contact Studiiyo23. And if you see me (I'll be working), come say hey! I always love chopping it up with fellow sneakerheads.
Note: Typically I'd do an event recap, but I'm going to be working the event to lend a hand to my Studiiyo23 family. Seeing as the event will be packed, it would be hard to do a respectable job covering it by myself anyway (Bobby is unable to attend due to prior commitments). As I stated above, I'd love to meet anyone who's checked out the site! Please feel free to come chat with me if you see me working. See you all tomorrow!
Share KicksOneTwo