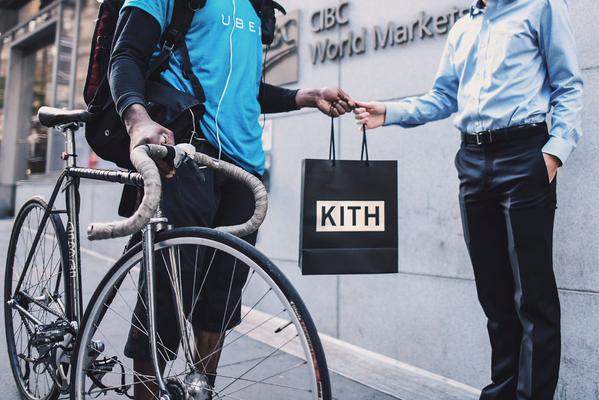 Ronnie Fieg is a game-changer. There is no doubt about it. Despite critics saying he's falling off, the man just keeps working and keeps innovating. It doesn't matter what you've thought of his most recent releases and designs; you just can't knock the fact that he continually pushes the envelope in every single way. His innovation and creativity shined again today with the #UberRush x #KithStrike release of the Diadora RF 7000. Ronnie partnered with UberRUSH and released 24 pairs of the Diadoras today for Manhattan customers only. Those that were lucky enough to purchase in time got the sneakers delivered in as little as an hour. (Don't worry, these will still be available for purchase on October 23).
I have to make a a side-note. I'm writing this at 11:10 a.m., approximately 30 minutes after Ronnie tweeted the link to buy the shoes. As I scroll through my Twitter timeline, I see the majority of large sneaker blogs posting their version of the "breaking news" for this release. Seriously, I've seen roughly five or six sites quickly post an update on the news. I commend their timeliness of the matter, but c'mon man. I briefly thought about whipping up a quick article to announce the news, but immediately trashed the idea. It would be counterproductive, wouldn't it? Instead, I'm going to take my sweet time on this piece, and actually make it mean something and have some content to it instead of just re-announcing news that most people already heard.
*End side-note*
You might be thinking to yourself, "So what?? Dude released a few pairs of kicks early, and delivered them same-day via Uber. What's the big deal?" The big deal is nothing like this has been done before. Ever. Most people wait for their purchases for a week. Sometimes longer. Sure, you can spend a good amount for next-day delivery on most sites, but imagine getting your kicks delivered to you within an hour or two. On Snapchat, Ronnie mentioned that he wanted to implement UberRUSH on the Kith website in a larger scale. What a time to be alive.
UberRUSH is only available in NYC, Chicago, and San Francisco right now. Let's say that Kith successfully implements UberRUSH on their full website. Of course it would be NYC only. What if a shop such as Jugrnaut implemented UberRUSH in Chicago? If UberRUSH grows to more major cities, including Minneapolis, Studiiyo23 could even get in on the action! How about major retailers such as Nike or Adidas? It's not out of the question to say they could integrate UberRUSH into cities where they have brick and mortar stores set up.
The point I'm trying to make is this: UberRUSH collaborating with retailers is an unbelievably dope concept, and Ronnie was the first to notice. Sure, there would be numerous kinks to work out if it was to be integrated into retail stores nationally, and I'm not saying we'll all be reaping the benefits of same-day delivery this time next year, but who knows where it will go. As proven today, it's already working on a small scale. Kudos to you, Mr.Fieg, for changing the game up again.
Share KicksOneTwo