January 1st. New year, new possibilities, new days to cop new kicks. We're in for a great year of sneakers, and we couldn't be more excited.
Every year, there's a few shoes that really stand out to you, weather they were your favorite pickups or kicks you get a lot of wear out of, and we thought we'd share the shoes that stood out to us. Bobby's showing his three favorite pickups of the year (shoes that he picked up in the past 12 months, not just shoes that released in the past 12 months, and I'm showing off the three shoes that I got the most wear out of. Let's go.
Bobby
Ronnie Fieg x Diadora RF7000 "Primo"
It's only right for me to start off my top three 2015 pickup list with a shoe by the gawd, Ronnie Fieg. For those that have said Ronnie has fell off lately, you obviously haven't seen this shoe in person. Pebbled nubuck, full grain leather, and pigskin suede round out the materials that bring this shoe back from a 25-year hiatus. I'm just waiting to find the perfect time to un-DS these.
 Shoe Gallery x Reebok Classic Leather "Flamingos at War"
There's no better feeling than finding a pair you've been on the hunt for for a while. These barely made it into the 2015 list, but I'm really glad they did. A faded camo somehow perfectly combines with a pink toebox to play into the "Flamingos at War" name perfectly. This is just a dope shoe that I'm glad to have found (finally) for a solid price.
Burn Rubber x Reebok Classic Leather "Spirit of Detroit"
I'll close it out with my favorite pickup of the year by far. The homie Midas couldn't even give these away for the longest time, so I got them for an absolute steal. This shoe propelled me into a Reebok Classic frenzy (hence the reason for there being two Classics in this top three list). High-quality leather covers this shoe that holds great meaning to me due to the "Family" and "God" gold-foil inscription on each shoe.
Ross
Air Huarache PA "White/Gum"
Although these were almost exclusively a summer sneaker for me, I sure got a lot of burn out of them through the summer months and into the fall. Lightweight, comfy, and wearable with almost any fit, these were my go-to shoes for the first half of 2015.
 Adidas Ultra Boost "Black"
Huaraches all summer, Ultra Boosts all fall and winter. The most comfy shoes I've ever put on my feet, I found myself reaching for these time and time again. I've worn them for weeks without switching, and I never regret it. A solid colorway of the best sneaker of 2015.
CDG Play x Converse Pro Leather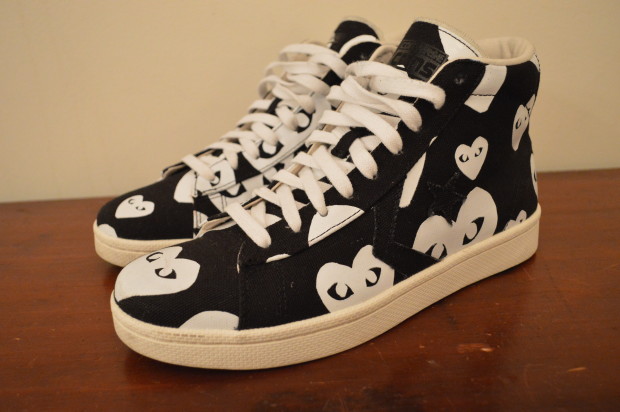 My most complimented shoe of 2015. Every time I threw these on (frequently), at least one person would comment on how dope they were. The white heart logos sit so nice on the black upper, and the mash-up of a designer brand and a classic sneaker is an absolute home run. These will be in heavy rotation through 2016.
What were your favorite pickups of the year? Did you have a certain shoe that you got a lot of wear out of? Let us know in the comments or on Twitter, and, as always, be sure to follow us on Instagram for all the fire sneaker pictures that you can handle.
Share KicksOneTwo