We all love a fresh, clean pair of kicks. There's nothing quite like busting a brand new pair out of the box and feeling like a million bucks while you walk down the street. We'll try our hardest to keep our kicks clean, and with perseverance and a little bit of good luck, we're usually able to do just that.
However, it's impossible to keep all your kicks clean all the time. Shit's gonna happen, both literally and figuratively, and if you're not careful you'll probably step in it. No need to worry though. There are certain shoes that look great beat up. With wear, they gain more character and become more unique, and we've compiled some of those shoes into a handy list for you right here. Without further ado, here's 3 shoes that look great beat up (by the way, we're excluding Chuck Taylors because we figured you already knew). Let's get it.
Vans Sk8-Hi
In the unlikely event you didn't already know, we here at KicksOneTwo LOVE the Vans Sk8-Hi. Looks good fresh out of the box, and continues to look good when you beat it down and tear it up. Grab a simple colorway like the black/white or the blue/white, and wear em' half to death. Feeling real creative? Grab a Sharpie and write or draw on em' so that they're even more unique.
Adidas Stan Smith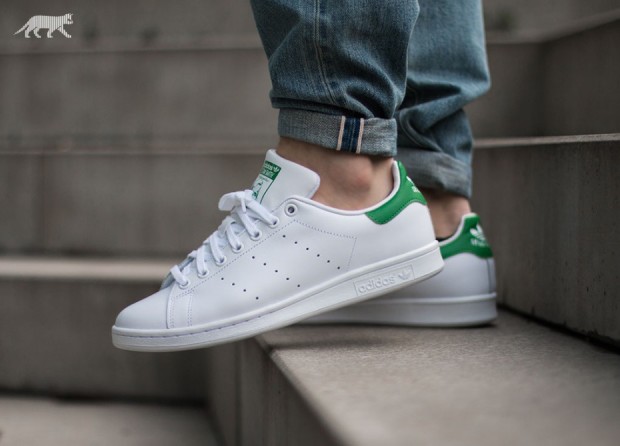 Ah, the Stan Smith. A shoe that's enjoyed a tremendous comeback the past few years, and seems to work well with just about any fit (I've actually got a green/white pair on foot as I type this article). The shoe obviously looks good new, but it wears in extremely well, and will keep its shape well after 20+ wears. White kicks don't usually age well, and for that reason alone, you need to have a pair of Stans in your rotation.
Puma Suede Classic
Cheap, wearable, and dope since the 9170's. What's not to like? Ever since the Puma Suede became the favorite shoe of b-boys worldwide, it's had a place in hip-hop culture, and still looks as good today as it did many decades ago. You can thrash em' all you want, and they'll remain stately and comfy. Beat em' up a little too much? Throw a fresh pair of fat laces in, and they'll be good as new.
What are your favorite shoes to beat up? Are any of the kicks in this list already part of your rotation? Let us know in the comments or on Twitter, check our Facebook page for daily updates, and, as always, be sure to follow us on Instagram for all the fire sneaker pictures you can handle.
Share KicksOneTwo