I love the Jordan Future. I think it's exactly what Jordan Brand needs: an innovative product that is on the cutting edge of cool. It's a perfect summer sneaker too. A lightweight woven upper with a super-comfy and dope Jordan XI midsole and outsole too? Money. As you can see below, there's even colors to fit any taste (there are even a few dope ones that aren't pictured here like the JBC model.)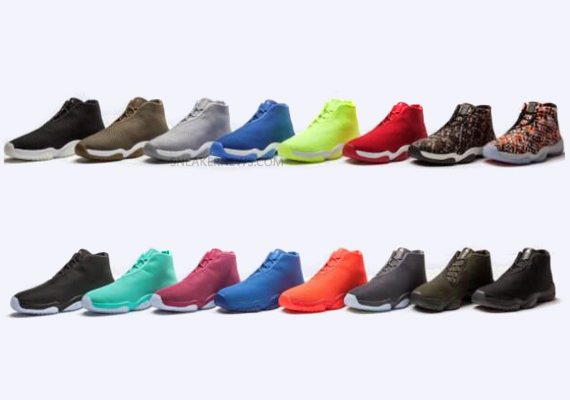 Yet for some strange reason, people continue to sleep on these. Although some of the woven premium models have sold out fast, the solid color models usually stay on shelves for days if not weeks. Why is that? Want to complain about Jordan Brand's lack of innovation? Well here's your innovation: It's a great lightweight shoe that takes hints from the current tech running trend with the woven upper, but still keeps it classic with the midsole and outsole. What more could you ask for?
Sneakerheads seem to have an annoying habit of moaning about how a brand does the same old stuff over and over, but then when the brand tries something new they either just don't like it or won't get on board with it even though it's what they asked for. Well here's your chance to get on board with the new wave. I'd suggest you cop your Futures now, because when the sneaker-loving masses come to their senses and realize just how damn dope these sneakers are, they'll be a lot harder to grab.
-RDwyer
Share KicksOneTwo