I had a funny thought a few days ago. I was chilling with my homie (and KicksOneTwo's Creative Director) Jahmade, and the topic of discussion was the sneaker that we'd received the most compliments on in public (the compliments being from the general public, not other sneakerheads or those in the know).
As I mulled the question over, to my great surprise I realized that my most complimented shoe was my Volt Jordan Futures (yeah, that's me wearing the volt futures in the picture. The purple, camo and easter futures belong to Moh, Jahmade, and Bill respectively).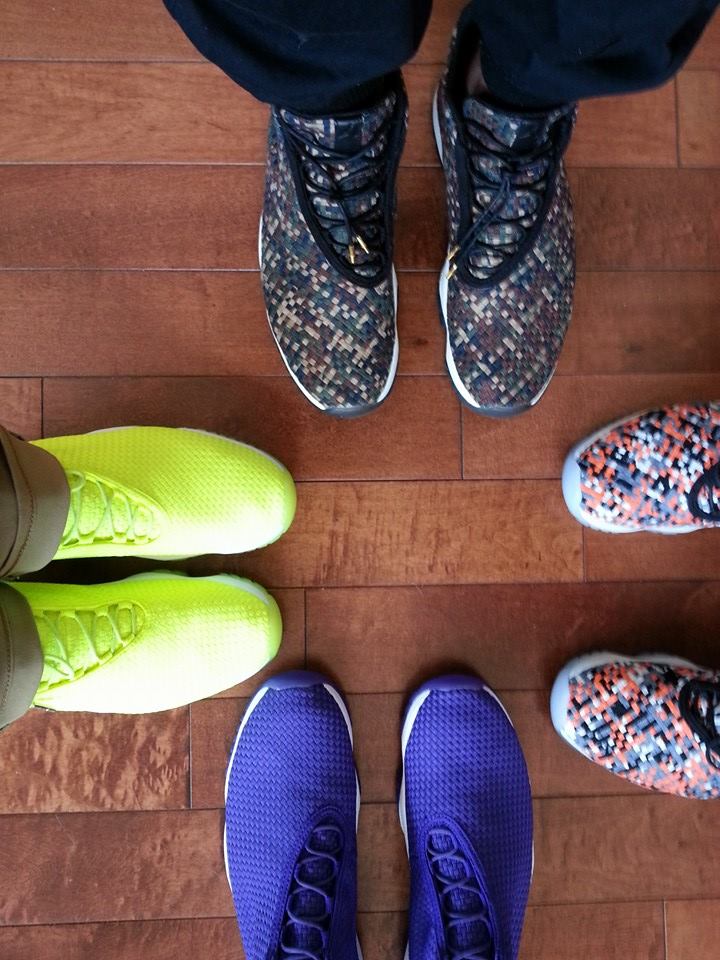 Now don't get me wrong. The volt Futures are a super-dope shoe. You already know I love the woven upper, and I'm a big fan of the volt color. It's bright and bold, and it stands out. However, I'm not going to act like I wasn't surprised when I realized more people asked me about them than rarer kicks I own like my easter Futures, my Bred 1's or even my Supreme Foams.
Then I realized what was happening. The average person doesn't care at all about how rare a sneaker is. They see something they think is dope, and they're a fan of it, regardless of production numbers or any stigma that might be associated with said sneaker. You could have a $2,000 dollar shoe on your feet and they wouldn't know or care.
It was a humorous realization to have, and to be completely honest, I found myself wishing it was more like that for us sometimes: you see something you like and you cop it. No need to worry about the story behind a shoe or how rare it is. It's nice to have a great knowledge of the sneaker game, and know what's rare heat and what's not but in the grand scheme of things it doesn't matter.
Where am I going with this, you might ask? I just think it's a good reminder that sometimes you gotta wear what you like and not get caught up in the hype too much. It makes things a lot more simple.
PS: Have a sneaker that you get a surprising amount of compliments on? Drop a comment and let us know or hit me on Twitter! Would love to hear your stories.
-RDwyer
Share KicksOneTwo