It's almost sacrilegious. You've got a fresh pair of kicks on, but for some reason you're wearing an old, dirty-ass pair of white Wal-Mart specials you've had for years. That's not alright. It messes your whole steez up. Not sure how to improve your sock game? No worries, the KicksOneTwo staff is here, and we're more than happy to help you.
The first step is pretty simple. Figure out what type of sock works best for you. Wear a lot of high-tops? Crew socks are your best bet. Prefer sleek running silhouettes? Shoot for an ankle or no-show sock.
The second step isn't rocket science either, but seems to be commonly biffed nonetheless. Make sure the color of your socks work with your shoes. Black socks with white Air Force I's looks tacky, as does a pair of white socks with something like a triple black Roshe Run. You've gotta make sure that the color coordination is on point.
If you've mastered those two simple things, it's on to the third part. Try some colored and patterned socks! Especially if you're wearing shorts, a pair of crazy-ass socks can really give your outfit that extra pop you need to put it over the edge. Got a pair of all-white kicks on? Try balancing it out with some grey and an image, like these Stance Schrader socks.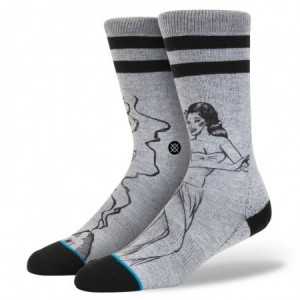 Going with a mostly black look? Get colorful. Black looks good with almost anything, and something like these LRG Old Tree crew socks could help you get the color pop you need.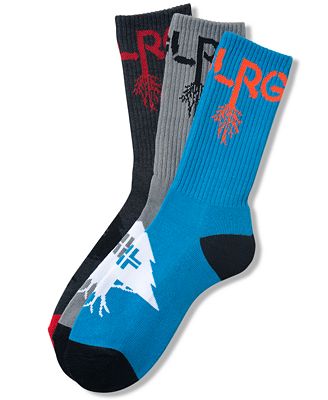 And finally, want something a little more fresh for everyday wear? Try the Stance 3 Amigos. Stripes work with almost anything (as long as you're not wearing any other striped garments, you don't need to overdo it.), and the simple black and white colorway is always a winner.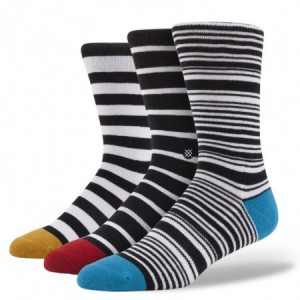 Sock drawer looking a little bit better? We though it might be. Here's hoping you enjoyed this beginner's guide to upgrading your sock game. Always feel free to expand and try styles that are even more crazy! It never hurts to mix things up a bit.
Share KicksOneTwo