Today's the big day. Pharrell and Adidas are dropping their collaborative Superstars….all 50 pairs of them. Yes, you read that right, 50 pairs. With what seems like every color imaginable dropping, there's a color in the pack for everyone. Here's a picture if you haven't seen the full expanse of the collection.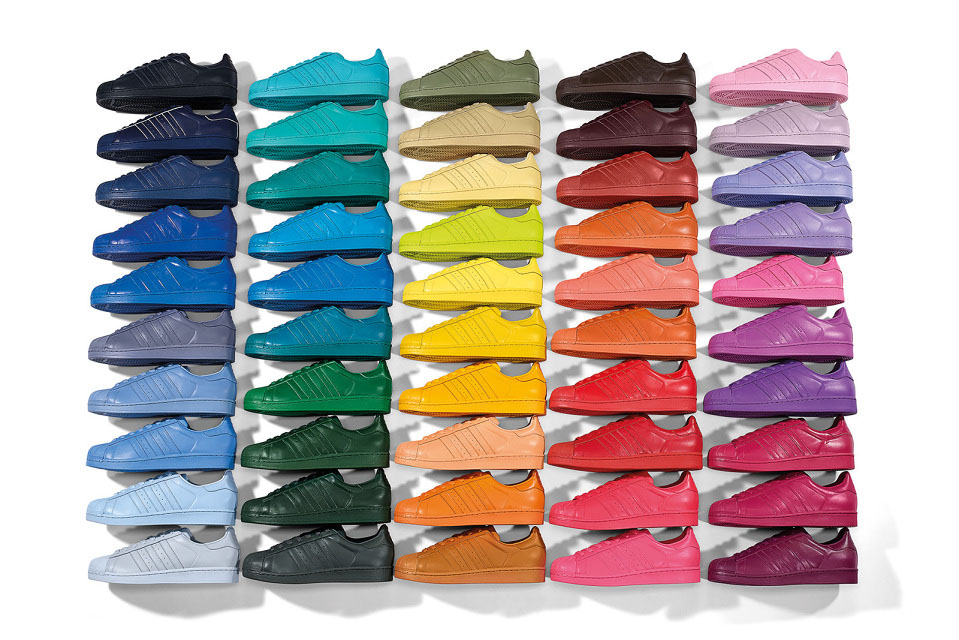 Pretty much every color you could think of, plus a few that you didn't see coming, right? That's Skateboard P for you. This could prove to be an interesting collection in a lot of ways, both good and bad. Let's look them over.
First off, the good. This is a very creative idea. Monochromatic sneakers seem to be all the rage right now, but they've never been released in this wide of a color palate before. Some of the shades of pink, yellow, and blue are very interesting, and not colorways that are commonly seen on shoes.
From a collector's standpoint, this is fun too. I would bet there's going to be at least a few people out there who will try to track down each and every single pair. Although I'd like to do that myself, funds won't allow it. I'm going to shoot for 5 or 6 personally.
But with the good, there's always the bad too. You could say that this is oversaturating the market. Adidas damn near killed the Superstar in the early to mid 2000's by flooding the market with way too many colorways and collabs. Releasing 50 different pairs is a bold move, especially after saturating the market didn't work out so great for them last time they tried it.
But if you take the good with the bad, I'd have to say this is a pretty good idea. There's a color for literally everyone and their mother in this collection, and the materials and construction seem to be on point. I'm on board with the Supercolor, how about you?
-RDwyer
Share KicksOneTwo