It's not Cruzday Tuesday, but we're discussing Victor Cruz anyway. To be more specific, we're discussing his first Nike signature shoe and how it is that we feel about it. If you haven't seen the kicks yet, here's a snap of them.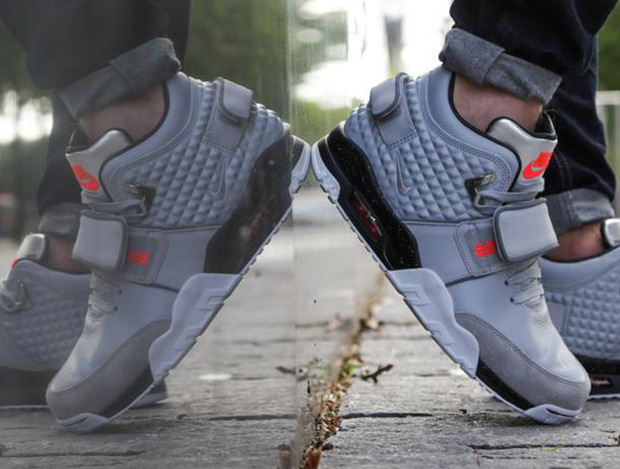 Unfortunately, there's only one word that comes to my mind when I see these sneakers. What's that word, you might ask?
Yuck.
Victor Cruz seems to be a great guy with a big personality (and I don't think that many people would disagree when I say that he has one of the best touchdown celebrations in the NFL, but his first signature shoe doesn't reflect any of that personality. The folks at Nike seemed to think it was a good idea to vomit design inspirations from a bunch of other sneakers (Jordan III, Air Trainer I, Air Safari, and Air Yeezy) onto one silhouette. Although these are all great sneakers in their own right, combining them onto one shoe seems to be mashing too many good things together, similar to a Jordan Fusion.
Victor Cruz is the rare athlete that seems to be able to stay ahead of the style curve. He was one of the first celebrities to show love to 40oz Van and his high-fashion inspired snapbacks before they blew up. He's constantly hanging around Ronnie Fieg (whom any KicksOneTwo reader knows is one of my favorite designers). He's the new face of Givenchy. That's a laundry list of accomplishments in the fashion world, and owing to those accomplishments (and of course his on-field accomplishments as well) he deserves better than a sneaker that appears to be a high-fashion inspired athletic shoe gone terribly wrong.
Here's hoping the shoe sells for Vic's sake so Nike can take another crack at making a better model for him next year, but I speak for the whole KicksOneTwo staff when I say we won't be waiting with bated breath for a chance to pick up any Air Cruz 1's.
Share KicksOneTwo