If you've been online at all this past week, you've seen the internet going nuts (word to Paul Wall) over Supreme's F/W '15 offerings. One of their strongest collections in recent memory, the line includes everything from dope overcoats, to a baseball jersey inspired by 1980's White Sox uniforms to dope trinkets like crowbars and air horns, there's something for everyone.
Now that I've had a few days to absorb the line as a whole, I've been able to narrow my favorite pieces down to five, which I'll present in order as well as spend a little time discussing why I'm so fond of each piece. Let's get right to it!
5. Meditation Balls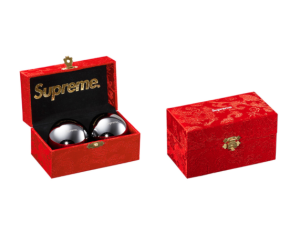 Accessories are an area in which Supreme has always shined, and the best accessory this season is this set of meditation balls. You can improve your manual dexterity and strength, and keep something 'Preme by you at all times. What's not to love?
4. Quarter-Zip Jacket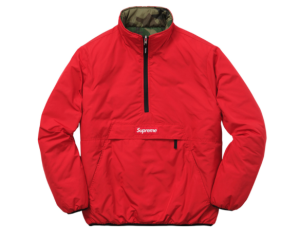 The F/W collection is chock-full of outerwear (as it should be), and one of my favorite pieces is this quarter-zip, 90's-esque jacket with a front zip pouch. You get your box logo action on the front without it being too overpowering, and the camo liner and vintage-style cut combine for a super dope pullover that'll be easy to throw on all winter.
3. Fishtail Parka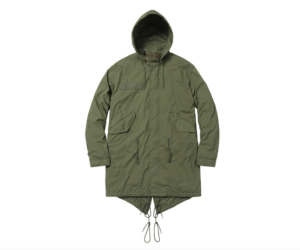 You don't have to have a box logo on a Supreme piece for it to be dope, and this olive green fishtail parka is proof of just that. With the classic fishtail look and artfully placed pocket, this is a jacket that belongs in heavy rotation in anyone's wardrobe.
2. Baseball Jersey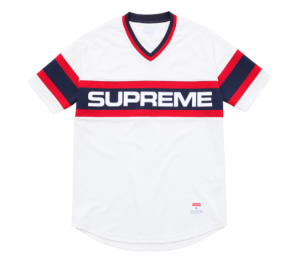 Anybody who knows me knows that I'm a sucker for baseball jerseys, and this 1908's White Sox-inspired joint is an absolute home run (pun intended). There's no need to do too much with a classic design like this, and Supreme put just enough of their signature aesthetic into it. Even though this is a piece you'd have to sit on till the summer, you'd be breaking necks left and right when you pulled it out.
1. Rugby Shirt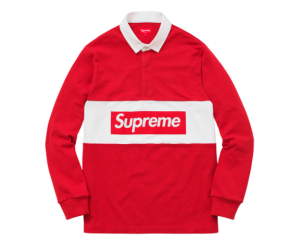 Nobody makes better rugby shirts than Polo, but this Supreme rugby gives them a serious run for their money. The white collar and white stripe across the chest contrast beautifully with the red body, and the large box logo in the stripe works wonderfully with the overall aesthetic of the piece. It's easy to throw a box logo on anything and call it a hit, but the way this rugby came together is something special.
So there you have it. My top 5 pieces from the Supreme F/W '15 line. What are your favorite pieces? Planning on copping anything? Let us know in the comments or on Twitter! We're always willing to talk some Supreme
Share KicksOneTwo