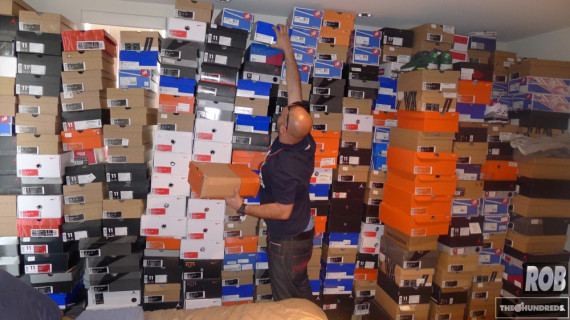 Sometimes in life there comes a point when you need to trim your sneaker collection down. Maybe a whole side of your bedroom is covered in boxes. Maybe your 2-car garage has become a 1-car garage. Maybe the spare room in your house has become storage for your kicks. Maybe you simply have too many pairs that you don't wear.
It's not something that's easy to do. When you have a lot of shoes, even something as simple as trying to figure out which pairs you want to sell and which pairs you want to keep can be a time-consuming and strenuous task. Fear not. We're here with some tips so that if the time does come for you to move some of your kicks, it'll be as pain-free as possible.
Figure Out What You Can & Can't Live Without
The first step you've got to take when it's time to slim down your collection is figuring out exactly what shoes you can and can't live without. Odds are there are a few pairs in your collection that hold a lot of sentimental value to you, and those are the ones that need to be off-limits. Set those aside.
Then, start going through the stuff you like but don't love. Haven't worn a shoe all season and forgot you had it? Let it go. See something you bought on a whim? Let it go. See a pair that you've got decent use out of and could find a way back into your rotation? That might be one that you want to keep. No matter how many pairs you want to sell, it's crucial to figure out which shoes you really want to keep and which shoes you're not in love with.
Decide How You're Going To Move Your Kicks
So you've picked out the kicks that you're willing to let go of. Now it's time to figure out how much you'd like to get back and how exactly you want to sell them. Let's be 100% real here: you're probably not going to be able to get as much as you'd like back. It's a buyer's market, and if you want to move your kicks quickly, you'll probably wind up having to cut some deals here and there.
Figure out how flexible you're going to be with your prices (will you knock money off if someone comes to you? If someone wants more than one pair, will you throw them a package deal), and after that's done, you need to figure out how you want to move your kicks.
You've got a lot of options. You can sell your kicks locally, through Facebook sneaker groups or Craigslist, or you can move them online through sites like eBay, Kixify, and Grailed. You'll likely be able to sell your kicks faster and get paid faster if you're going local, but you stand a better chance of making more money going through the Internet (although there is a higher possibility that you could get scammed, so beware and don't gift any PayPal payments unless you know the buyer). Pick your method, and be sure to get good pictures and detailed descriptions of your shoes before posting them anywhere.
Enjoy The Fruits Of Your Labor
That wasn't so bad, was it? Your kicks are up (and hopefully selling), and now you get to reap the rewards. Having more money in your pocket and a little less clutter in your life is nice, isn't it? Now all you need to decide is how you want to spend that money. Want to get ahead on rent? Want to treat the homies to a nice steak dinner? Want to go on a vacation? Want to go grail hunting? The choice is yours. That money in your pocket? You earned it.
Have you trimmed down your sneaker collection recently? If so, did you go local or national? Did you get back the amount you wanted? Let us know your stories in the comments or on Twitter…and be sure to follow us on Instagram for all the dope sneaker pictures you can handle.
Share KicksOneTwo