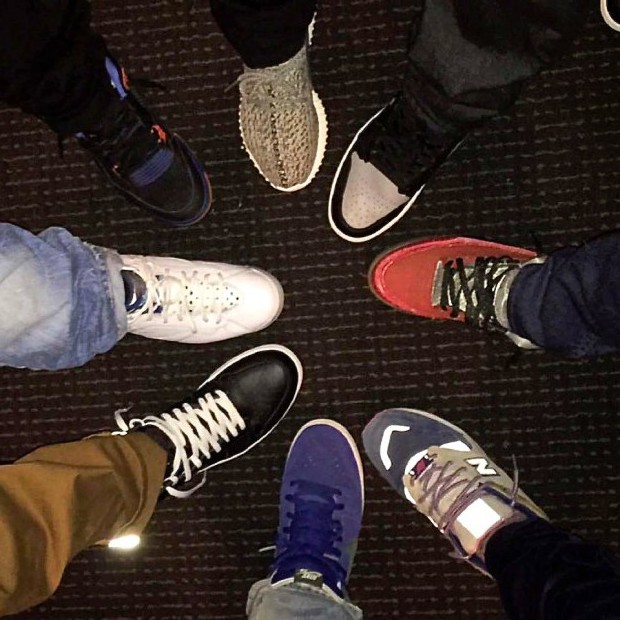 Picture above: Several Minneapolis/St. Paul sneakerheads at the Timberwolves game. I'm in the Yeezys!
Earlier this week, I had the opportunity to go check out a Timberwolves game with several other members of the Minneapolis/ St. Paul sneaker community. Even though the Wolves got demolished by the Heat, it was a great time. Laughs were shared, drinks and food were consumed, and lively discussion of sneakers (of course) were had by all.
A few days after this memorable experience, I got to thinking about our local sneaker community and how great it is. Although we may not be nearly as large as communities in other cities like Chicago and LA, we're much more tight-knit due to our smaller size, and that's a blessing.
For the most part, everyone gets along just fine, and people are willing to look out for one another just for the love of the game. If you need an oop on a release, you can usually find one. If you need advice or wisdom from another member of the community, you can get it. We're always helping one another out, and that's what fosters the great sense of community that we have.
Some of my closest friends come from the sneaker community here, and it's even what drove me to start this site. I want to give a voice to our great community, and shine a light on all the dope shit that we have going on here, as there's a whole lot of it.
To anyone in our community who's ever supported KicksOneTwo, even if you've just read one article: Thank you. I do it for you. I'm on my grind  to make sure we have the best content possible up here at 8AM daily…and anything I can do to shine a spotlight on our great community, I'll do to the best of my abilities.
What's your favorite thing about the Minneapolis/St. Paul sneaker community? Let us know in the comments or on Twitter!
Share KicksOneTwo