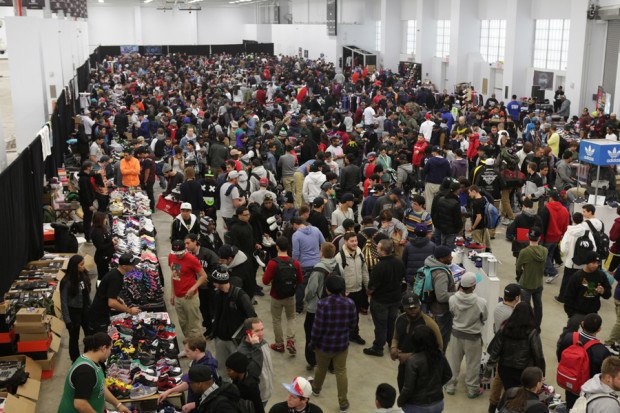 As long as people have been collecting sneakers, the aftermarket has been part of the game. Missed a pair on release day? No sweat, someone probably has it and is looking to sell. Hunting for a rare pair from a few years back and have some heat that you're not too attached to? There's a trade out there for you somewhere.
The sneaker aftermarket is one of the most fun things about the game. The ways to buy, sell, and trade are practically limitless, and you can find literally anything. However, with how popular kicks are nowadays (and how much money you can make off of certain releases) an undercurrent of seediness has snuck into the culture.
Here at KicksOneTwo, we don't condone that…and we believe in sneaker karma. We're a site that's for the everyday sneakerhead. The guy who really loves kicks, doesn't feed into the hype too much (we all do it occasionally, let's be honest), and tries to avoid paying resell if at all possible.
With that in mind, we though we'd fill you in on the "right" way to buy, sell, and trade. Follow these simple tips, and not only will your sneaker karma (it's real) be right…the process of finding the shoes you want will be that much more enjoyable. Let's get right into it with our first tip
Don't Give In To Resellers
Missed out on a shoe you really wanted on release day? Don't give in and pay a crazy resale price. We understand feeling like you need to have something, but that pair of kicks isn't worth two months rent. Try and make a trade. Call in a favor if you're got one in your back pocket. Wait for a restock (they happen more than you'd think). Just don't cave in. You don't need to be paying those prices
Stick To Your Word
Agreed to sell a shoe to someone? Don't flip on them when someone offers you more money. Said you'd help someone out with a pair of kicks? Help them out. Your word is all you've got, and if you do what you say you're going to, you'll be known as a stand-up guy…and who knows? You just might even get thrown more love deals/trades just because you know how to keep it 100.
Don't Be Greedy
Need to move a few pairs of kicks? Keep your prices reasonable. Making a trade with someone who knows a little less than you do? No need to rip them off. You'll have lots of opportunities to finesse in the sneaker game (trust me, they're there), and if you can resist the urge to take them, your sneaker karma will be A1.
So there you have it. Three easy ways to do the right thing. Do you believe in sneaker karma? Have you had any firsthand experiences with it? Let us know in the comments or on Twitter…and be sure to follow us on Instagram for all the dope sneaker pictures you can handle.
Share KicksOneTwo