You've probably already seen the shirts. A$AP Rocky, Playboi Carti (above), and Virgil Abloh have all sported them. You've heard the music, Carti's "Vlone Thug". You might be wondering what VLONE is all about, or you may know already. Regardless, you need to know one thing: VLONE is poised to break out in a major way this summer/fall.
Don't know much about the brand? Fear not, here's a quick backstory. Started by A$AP Bari, a founding member of A$AP Mob, VLONE is a cult fashion brand that produces tees and hoodies. Although the classic VLONE graphic is the most recognizable (they've even collaborated with Off-White on a limited shirt), they also offer other graphics like their "Friends" logo tees. Originally, VLONE was only available through pop-up shops and Bari himself (if you were lucky), but now their online store is open, and the brand is available to the masses.
So why's it going to be so successful, you ask? There's a few reasons: first off, it's got the right co-signs. As mentioned at the beginning of the article, Rocky, Carti, Virgil, Ian Connor, and other influencers (like Bari himself) have all been spotted in the brand, and in today's Internet world, the right co-sign can go a long way towards making your brand successful.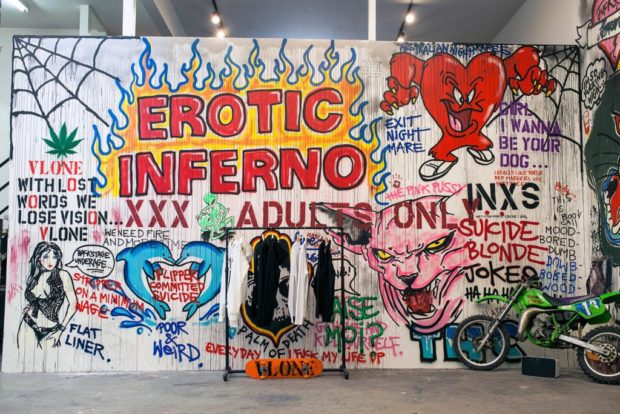 But it's not just co-signs. Bari has a very specific aesthetic you can see in all of his pieces, and having a strong aesthetic is very appealing. You can spot a VLONE piece from a mile away, because there's really nothing else that looks like it. Their signature giant print and distressed waistbands (on the hoodies) are their calling cards, and they stick to what works for them. Plus, the graphic tee is due for a comeback. There's nothing better for the summer than a good graphic tee, hoodie, or long sleeve, and that's what VLONE offers in spades.
So do yourself a favor, and get down with the VLONE lifestyle. You know it's great to say you were down with something before it really starts going off.
What do you think about VLONE? Do you already own some pieces? If not, which one do you like the most? Let us know in the comments or on Twitter, check our Facebook page for daily updates, and, as always, be sure to follow us on Instagram for all the fire sneaker pictures you can handle.
Share KicksOneTwo