Here at KicksOneTwo, we're always on the hunt for fresh new clothing brands to rock. We've got our old standbys that we love and rock season in and season out, but we're always keeping our eyes open for different brands that we can put in our rotation.
One of those different brands that we've really been loving lately is Carrots by Anwar Carrots. Quick backstory for those of you who don't know Anwar: he came up in the mid-00's Fairfax Avenue talent incubator that also gave us Dom Kennedy, Tyler, The Creator and the rest of the Odd Future crew, Casey Veggies, and many more.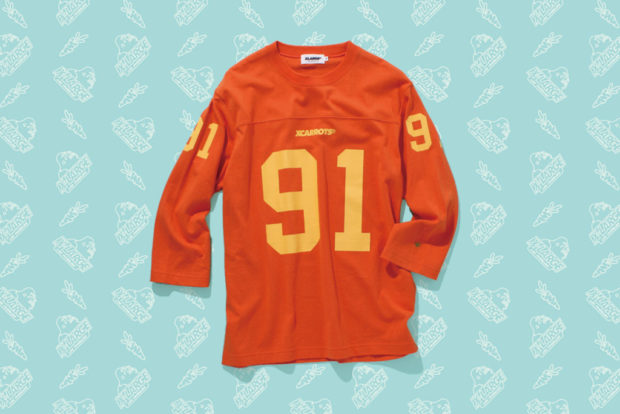 Anwar was originally part of Peas and Carrots, a creative company he shared with his friends and business partners Josh Peas and Casey Veggies … but when Casey trademarked the Peas & Carrots brand without Josh and Anwar, effectively cutting them out, Anwar stuck out on his own.
His solo efforts clearly draw inspiration from the brands he grew up around (The Hundreds, Diamond, etc), but they've got a unique flavor that's truly all their own. The graphics are clean and bold, the aesthetic is very Fairfax, and the attention to detail is evident. That's probably why Anwar has managed to score collabs with luminaries like XLARGE (pictured above), Places + Faces, and 424 (pictured below) all within a few short years of starting his brand.
So if you're in the market for something new this fall, head over to the Carrots By Anwar webstore and grab yourself some new jawns. You'll be glad you did … and you'll stand out from the pack.
What do you think about Carrots by Anwar? Did you wear any Peas and Carrots back in the day before the split? Let us know in the comments or on Twitter, check our Facebook page for daily updates, and, as always, be sure to follow us on Instagram for all the fire sneaker pictures you can handle.
Share KicksOneTwo