Welcome to a new segment the folks here at KicksOneTwo are glad to bring to you: the "Community Opinion". It's a pretty simple concept. Folks from the local sneaker community chip in with quick opinions on a sneaker, from good to bad. We figured it would be a fun way to bring the community together and let them share their opinions.
For the first segment, we asked for opinions on the KD7 "Global Game". Releasing tomorrow, this red/silver KD model drew some mixed opinions from the community. Read on to see what your fellow Minneapolis sneakerheads were thinking, (and click the links to check out their Twitters and Instagrams. If they're affiliated with any sneaker business, that will be included as well)!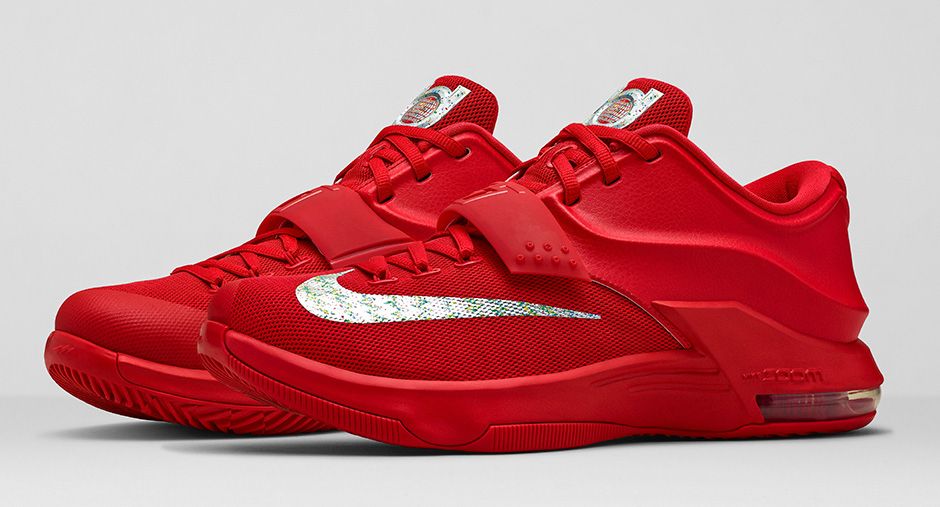 Bill Cheney (Instagram) (Twitter)- Dope shoe. I'm a huge fan of the FIBA games and I know KD is also. All red shoes have a special place in my collection, and this might be the first KD 7 I grab. The multicolor splatter is a nice detail on the tongue logo, the swoosh is crazy, and I'm pumped to see the strap back on KD's sneakers!
Mark (Phenom Global) (Instagram) (Twitter)- Nike and Kevin Durant can thank Kanye for making all red shoes popular.
Jahmade John (Studiiyo23) (Instagram) (Twitter)- They're dope but I've got my eye on a few other things coming up, so I'll be passing.
Sean Crawford (Studiiyo23)- This shoe made me laugh in my own dry humor. As a soccer player I've always noticed how KD's resemble soccer cleats (see Mercurial Vapor IV). Seeing a KD called the "Global Game" just reminded me of how soccer is far more global than basketball will ever be.
Marquis Gordon- It's refreshing to see a clean solid colorway and design from the Global Games. It's a nice step away from the KD6 line and some of the more extreme colors they were putting out. It's a very clean look with the solid red, and that's why I want them!
Alex Timmers (Finish Line) (Instagram) (Twitter)- I like them a lot but I feel like they're overhyped. That red colorway has been put on too many shoes. I want to see a little more originality out of Nike as a whole.
Adam Westermann (Instagram) (Twitter)- The KD7 is a great shoe, but this is just another red sneaker to me. Pass.
Derek Madsen (Twitter)- I think the colorway is fire, but I'm not sold on the sneaker just yet. KD is my favorite player in the NBA hands down, but I can't buy that alone. I'm going to have to check them out in person before I make a final decision.
Andrew Kimball (Finish Line)- Those are super hard. I'll be copping for sure.
Felton Williams (Finish Line)- They're all right. Not super serious. If I get a chance I'll cop but I'm not too concerned either way out of it.
Thanks for checking out our first edition of Community Opinion! We'll have more coming soon so stay tuned.
Share KicksOneTwo