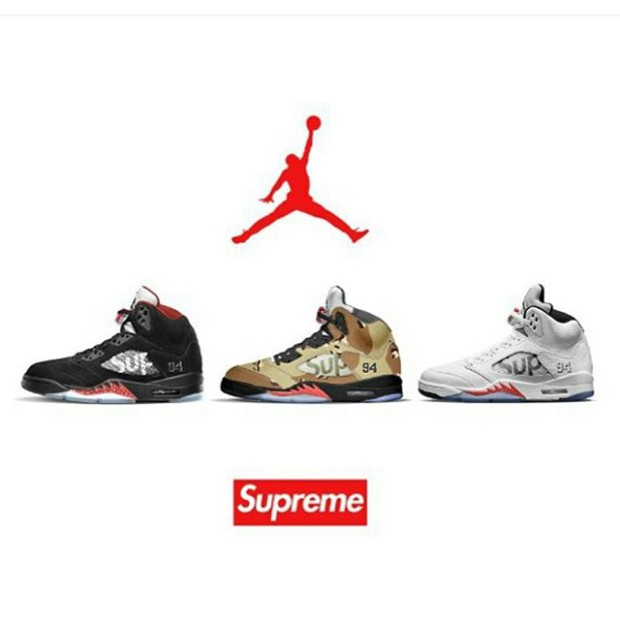 Last week, I was lucky enough to be able to cop the white Supreme Retro 5's off of Supreme's website when they initially released. I know, I know. Not another Supreme 5 post. Trust me, I've seen more than my fair share of them this past week, but I like to think I view things a little differently than others. Here are my honest thoughts on Supreme as a whole, and the Supreme 5's:
These shoes are actually the first item I've ever purchased from Supreme in my life. "What?? A teenage sneakerhead that doesn't own any Supreme clothing??" Crazy, isn't it? To be quite frank, I've never really got into all of the Supreme hype. I have been interested in buying a box logo hoodie, among some other pieces, and I've always been intrigued by the "godliness" of the brand to streetwear-heads, but I've never pushed myself to buy anything. The prices are just way too high. Now, if I wasn't paying for college, and was making some really good money, there's no doubt I'd be buying some Supreme. However, I'm not, so I don't. For now, I'll pass on drop after drop without a care in the world about it.
There are a few reasons why I wanted to cop one of the three pairs: I'm a sucker for collabs, all three shoes were pretty clean, and there was a ton of hype surrounding them. You can never go wrong buying a hyped sneaker like these. No matter how you play your cards, if you manage to cop a pair, you end up winning. Naturally, I tried to get them…and I actually did. I copped the white pair in a size 11 and immediately had a few people ask me if I would sell it to them. Since a part of me wanted to keep them, I told them I'd have to hold off until I could check them out in person.
They arrived in the mail yesterday, and to be honest my immediate reaction was negative. Even though I did like the shoes better than I thought I might, they still fell short of my hopes for a collaboration of that magnitude. I checked out both the shoes and thought to myself "If these didn't have the Supreme branding on them, would I be interested in keeping them?" The answer is a resounding "No."
I didn't initially like them for a few reasons:
The quality on them is solid, but nowhere near what I wish it had been.
If they weren't a Supreme collab, I wouldn't have even thought about buying them.
They were a little big on me, and overall looked way too bulky and awkward on foot. (Yes, I tried them on since I wanted to wear them.)
I realized I'm more of a runner or low-profile shoe guy than a bulkier, heavier shoe guy.
However, even as a non-Supreme head, the hype started to get to me, and even with these negatives, the shoe did some growing on me.
Like I said before, I'm a sucker for collaborations. Always have been and always will be. I love the fact that two street culture giants came together and put a clean and simple shoe together. Even though they don't look right on me, and I figure I won't be wearing them at all, a part of me still wants to keep them. I think it would be pretty dope to get a glass case and just display them.
Overall, looking at it from an aesthetics standpoint, the shoe is solid. All of this hype isn't due to the colorway being crazy or anything like that. The colorway is pretty plain and holds no real substance, and the quality is decent. (I don't understand all of these people claiming the shoe has great quality). I stand by my statement that if this shoe, or the black shoe (camo is not included here) was not a Supreme collab, I wouldn't waste my time thinking about buying them.
However, something about this shoe makes me want to keep them as a collection piece. I'm not sure if it's from the Supreme hype, or the fact that it's a limited shoe, but there is just something about them. All of the little details and Supreme branding really set this shoe off. From the "94" stitched on the outside heel, to the 3M tongue, to the "Sup" in the webbing, to the hang tag included with the shoes, it's obvious that these are special. Although it may be a plain pair altogether, it leaves me with the feeling that it should be coveted, and that it would look unbelievably dope as a display piece. (They would also look dope on foot. Just not on me).
As I write this now, I'm still unsure what I'll be doing with them. My indecisiveness will get the best of me again, so who knows what will end up happening.
What are your thoughts on the three Supreme Retro 5's? Did Supreme and Jordan drop the ball or did they hit a home run? Were you able to cop a pair, and if so, did you like them? Let us know in the comments or on Twitter!
Share KicksOneTwo