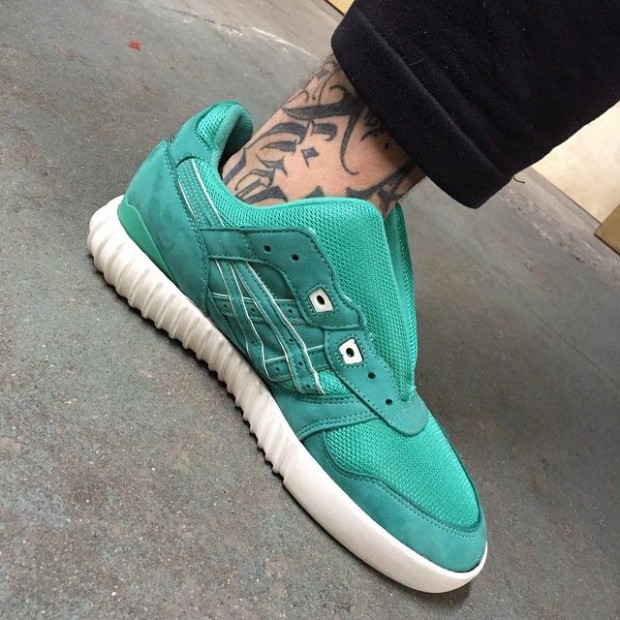 Want to know something really great about sneakers and the sneaker game as a whole?? There's a lot of inspiration to be found. From creative collaborations, to innovative shop layouts, to new and fresh ways to release sneakers, there's always something occurring well ahead of the curve.
However, what I draw the most inspiration from in the sneaker game is the designers themselves. The best designers can cook up a mind-blowing new sneaker, or create a colorway so dope that it looks like it came from heaven.
Even though there's a lot of dope sneaker designers doing their thing right now, the two that inspire me the most are Ronnie Fieg and Kanye West. In a perfect world they would fuse into one being and become Ronye West, the ultimate sneaker designer (could you imagine the resell on a Ronye West shoe? Wow), but since this isn't a Sifi Channel movie and that'll never happen, I'll speak on them individually.
First, Ronnie Fieg. As any KicksOneTwo reader knows, I'm a devoted Ronnie Fieg/Kith fanboy. I love the brand so much that I even wrote an article on why they're so damn dope earlier this week. Ronnie has the ability to take any shoe from the past, breathe fresh air into it, and make it cool again. Outside of the other guy we're going to be discussing in this article, who does that? Who else could revive old Asics runners and random Diadoras, and have sneakerheads and hypebeasts alike all over the world thirsting for his shoes? Nobody, that's who.
And it's not just the reimagining of old shoes: Ronnie has an incredible eye for detail. When you grab a Kith collabo sneaker, you know you're going to be getting something that's made of the finest quality materials, from soft, buttery leather to pigskin suede. You'll also have multiple lace options, as Ronnie is known to throw three or four pairs of laces in with his kicks just so you can have some options. Ronnie Fieg and Kith elevate the shoe game, and that's what makes them so inspiring.
On to inspiration #2.
'Ye. Mr. West. Yeezy. Yeezus. 'Ye Guevara. No matter which of his many nicknames you chose to address him by, one thing that you absolutely, positively can't deny is Kanye West's influence on the sneaker game. Not only has he collaborated on incredible shoes with everyone from Adidas to Louis Vuitton (we ranked all of his collabs here if you're interested), he's raised hype to a whole new level.
Everything he puts out is so limited and so dope it sells out in a heartbeat. People who haven't even listened to his music and people who don't even like him still snap up his shoes like a fat kid would snap up a dozen free donuts. If he co-signs a sneaker, even a random one, they'll start flying off the shelves. Honestly, who ever thought it would be so hard to find a pair of white Ultra Boosts?
But that's not all. Even though he was on top of the sneaker world with Nike, he left when they wouldn't give him exactly what he wanted, and to top it off he went right to their biggest competitor, Adidas. There are few others in the sneaker game who would have the stones to pull a move like that, and Kanye will go down as one of the few people in history who have truly "checked" Nike. That's some pretty inspiring shit.
Who in the sneaker game inspires you? Is there someone (besides the obvious like Michael Jordan or Tinker Hatfield) you think deserves the same acclaim as the two gentleman in the article? Let us know in the comments or on Twitter!
Editor's note: If you're wondering what that sneaker at the top of the article is, it's a custom done by the Shoe Surgeon!
Share KicksOneTwo