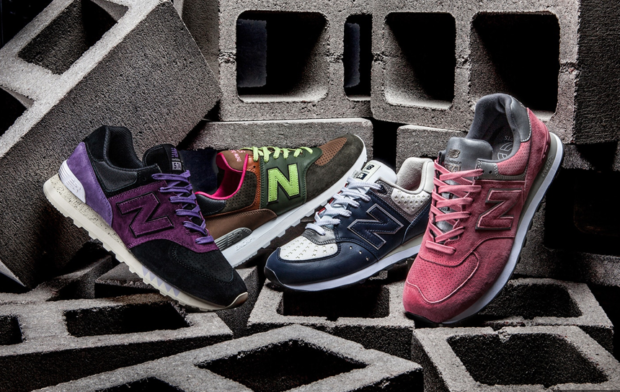 New Balance: a brand with a long, rich history. Known for their premium materials, quality craftsmanship, iconic silhouettes, and long-standing partnerships with legendary sneaker boutiques, the  Boston-based brand founded over 110 years ago boasts a loyal following both in the U.S. and abroad. But New Balance's story stretches far beyond just high quality in-line releases: they've also been part of many a legendary collaboration.
Their massive collaborative success draws from two things: the no-holds barred approach they bring towards any collaborative effort and their boutique partners. When it comes to a collaborative shoe, New Balance isn't the type of company to call up one of their high-profile retailers, slap two logos and a "new" colorway on an in-line model and call it a day. Their collabs come equipped with a backstory and design inspiration that is meaningful to both them and their collaborative partner, and the raw authenticity (and extremely high quality) of the finished product is typically what makes it special.
Sometimes past collaborations are just so damn good that you have to pay homage to them, and New Balance announced earlier this month that they'd be releasing an "Iconic Collaboration pack" on March 1st which consists of four re-made, wildly successful, culturally relevant sneakers with a fresh new twist: the original collaborative colorways will be arriving on the 574 silhouette, one of New Balance's most famous sneakers ever that just happens to be enjoying its 30th anniversary this year.
Today we're exploring the inspirations behind the original colorway for each of the four kicks in the pack, as well as providing detail on the materials each pair are constructed from. From Boston to Stockholm, from bright pastels to dark woodsy colors, there's something for everyone in New Balance's "Iconic Collaboration" pack. Let's get right into the kicks.
Concepts x New Balance "Rose"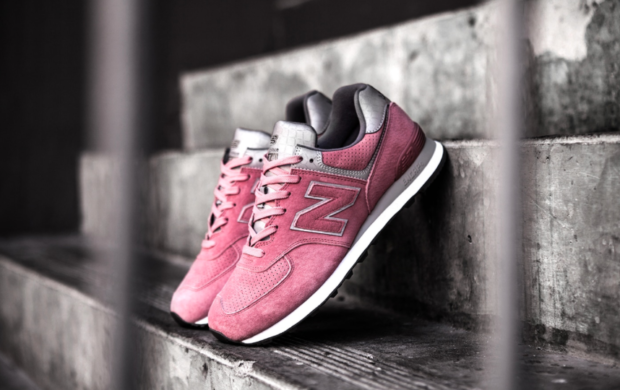 Original Model: 997
Boston-based boutique Concepts has collaborated with New Balance on many a classic sneaker, from the "Luxury Goods" 997's to the "C-Note" 998's, but arguably their most famous collab ever was the "Rose" 997's, originally released in 2014 to celebrate the opening of Concepts's new store in Tribeca.
Inspired by the pink sparkling wine the sneaker shares its name with, the "Rose" colorway features a soft pink suede upper that contrasts beautifully with the reflective grey croc tongue and heel. Concepts branding adorned the tongue and laces on the original pair, but is left off the re-release in favor of traditional New Balance hits on the tongue and heel.
Sneaker Freaker x New Balance "Tassie Devil"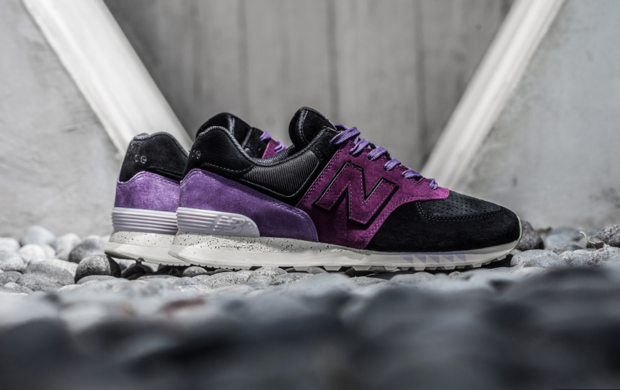 Original Model: 998
Australia's Sneaker Freaker celebrated their 10th anniversary in 2012 with the best way they knew how: a collaborative pair of New Balance kicks that were so limited they didn't even release in the US. Named after (you guessed it) the iconic Tasmanian Devil, Sneaker Freaker aimed to draw attention to the animal's plight (almost 50% of the Tasmanian Devil's population had gone extinct by 2012) … and have a little fun with the collab too, as they mentioned that their "self-imposed brief was simply to knock-up a beastly colourway and smash it out of Hobart. If you don't like purple, you'll pass."
The shoe is nothing if not loud and luxe, featuring multiple shades of purple like eggplant, violet, mauve, lilac and lavender. Triangular fangs to represent the Tasmanian Devil's sharp teeth adorn the front of the midsole, contrasting beautifully with a lightly speckled bone midsole. It's not just the outside that features rich detail either: the co-branded insoles feature an all-over Tasmanian Devil print.
Sneakersnstuff x New Balance "Erik"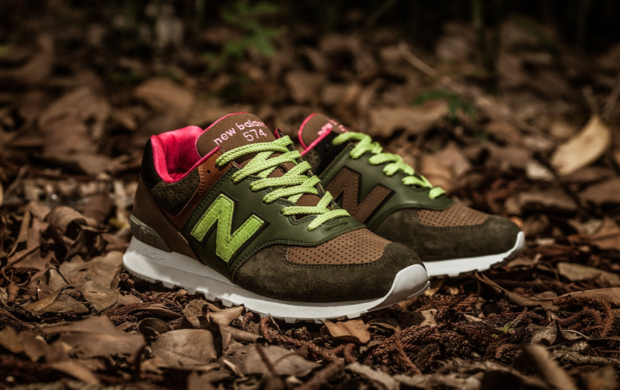 Original Model: 577
Sneakersnstuff co-founders Erik Fagerlind and Peter Jansson's love for the New Balance 577 is well-known and stretches back to the beginning of their business, with each founder creating a separate colorway of the silhouette in 2007. There's no extra-fancy backstory or collaborative history on this pair, just a well-thought out design: Fagerland wanted to make a shoe that featured muted earth tones on the outside and bright, loud colors on the inside.
Featuring a soft brushed suede on the toe and collar surrounded with premium leather, Fagerlind and Sneakersnstuff were able to perfectly balance loud and subtle for a shoe that stands out without doing too much. 11 years later, the sneaker still looks just as good as it did in 2007, showing the staying power of both a good colorway and a classic silhouette.
Mita Sneakers x WHIZ Limited x New Balance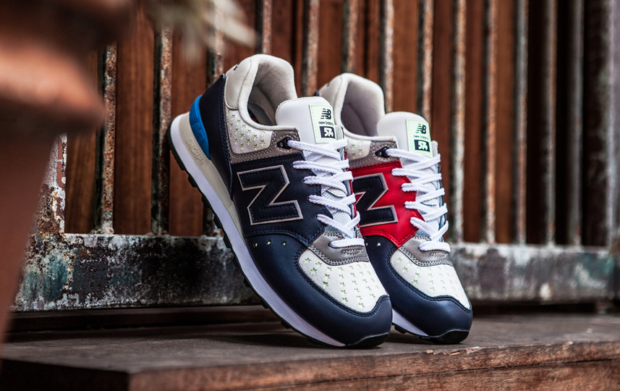 Original Model: 1700
This Mita Sneakers x Wiz Limited collaboration may not have a special nickname like the other sneakers in the pack … but that doesn't mean it's any less special or unique of a shoe. Originally released in 2012, this red white and blue colorway featured a loud, bright aesthetic that was bolstered by a cut-out star pattern.
Blue leather offsets the premium red and white suede on this un-nicknamed sneaker, and offers a patriotic look that works year-round. And the stars aren't just there for show either: a phosphorous lower layer lets the shoe glow brightly in the dark through the perforations. Would it be possible to find a better pair of 4th of July kicks, especially after the sun sets and your stars are glowing? We think not.
What's your favorite 574 from the "Iconic Collaborations" pack? Which original release did you like the best? Do you prefer the OG's, or are the re-releases better in your opinion? Sound off in the comments or hit us up and let us know on Twitter!
Editor's Note: All images courtesy of Hypebeast
Share KicksOneTwo