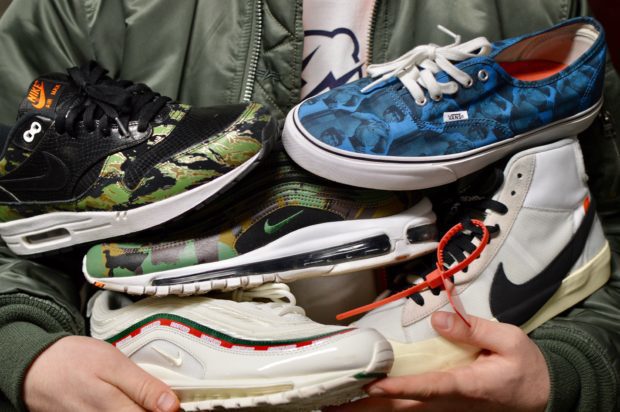 It's back like it never left. A classic KicksOneTwo series. An encore over a year in the making. After a nearly 18-month hiatus, our infamous Starting Five has returned.
Not familiar with the concept? We'll explain. A KicksOneTwo homie picks the five sneakers that are currently getting the most wear in their rotation, and explains what they like about each pair. It's a great way for you, our KicksOneTwo family to see what other people in the community are rocking, and gain a little insight into your peers (and their collections) as well.
The re-launch of Starting Five comes courtesy of our good friend Dallas Camp, a manager at long-standing Minneapolis sneaker boutique Studiiyo23. He's no stranger to these pages, having done his first Starting Five all the way back in 2015, and is a long-time KicksOneTwo family member, having been a part of the squad since the day the site launched.
His rotation consists of everything from a pair of collaborative Vans to a pair from Virgil Abloh and NIke's collaborative "The Ten" collection to a plentiful helping of Air Max, both collaborative and in-line. There's something everyone can enjoy and appreciate, and he's been kind enough to provide insight on exactly why he's so fond of each pair as well. Enough background: it's time to get into the kicks.
Vans Authentic x Supreme "Bruce Lee"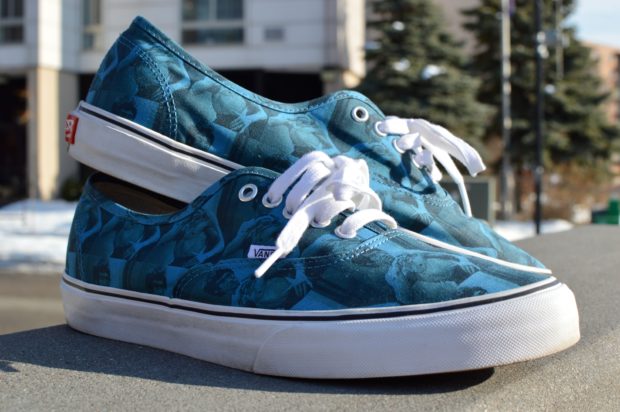 "I don't skate as much as I used to (even though I did stick a three flip first try earlier this week), but I'll always have love for a clean pair of Vans. The Supreme & Bruce Lee collaborative Authentic turns heads with the all-over print, but the colorway is toned-down and unique enough that the print is not way too garish. These are a cool piece of Supreme history and a very underrated pair of Vans."
Nike x Virgil Abloh "The Ten" Blazer Hi
"I've owned a few pairs from Virgil Abloh and Nike's "The Ten" collaboration, but out of all the pairs I've had, the Blazer is easily the most wearable, which is why it's earned a spot in my Starting Five. The rubber toe cap and giant swoosh add just enough personality to these, and although I've tried out all three colors of laces, I find myself coming back to the black over and over again. These will likely be in my rotation through the spring, summer, and beyond, as they're one of the best pairs out of the ten. I haven't tried to three flip in these just yet, but I'd bet you that I could stomp out a clean one with that rubber toe cap."
Nike Air Max 97 "England Country Camo"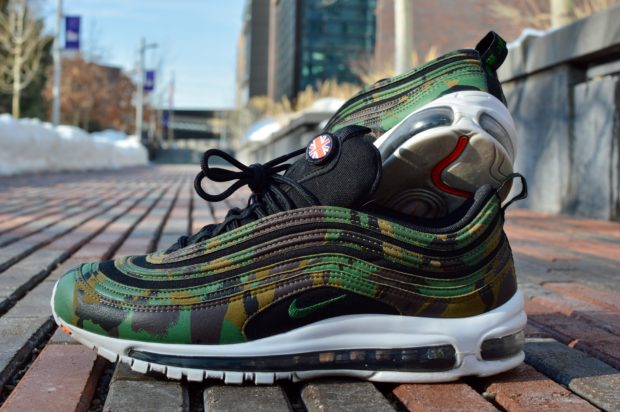 "You ever have a bid out on StockX that you forget to cancel, and it goes through a few days before it was supposed to expire? That's what happened to me with these. I'm not gonna lie: I was pretty salty about how the whole situation at first, but now I'm just glad these are part of my rotation. A clean camo that works with almost anything I want to rock, these have become my favorite pair out of the whole country camo pack."
Nike x Undefeated Air Max 97 "White"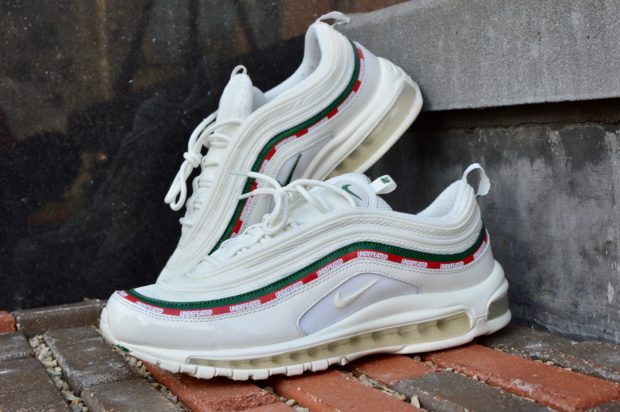 "Although I also own a pair of the black Undefeated 97's, the white ones are way more dope to me, as they offer a luxury look and feel that still retains the sporty look Air Max are loved for. I've just now started working these into my rotation as all the salt, snow, and ice are hard on a white shoe and I'm not trying to thrash these, but they are going to be getting even more heavy wear in the next few months as the temperature warms up."
Nike x Atmos Air Max 1 "Tiger Camo"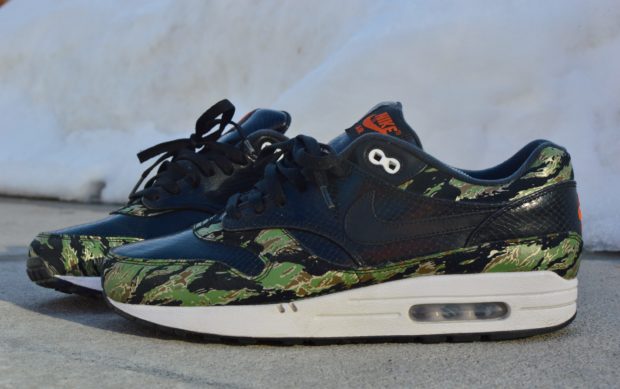 "I'm not just about the new, hyped-up Air Max colorways. I've been rocking Air Max since I was too young to even really know about kicks. The "Tiger Camo" Atmos Air Max 1's are one of my favorite Air Max of all time, and they offer a different, more bold look than the other camo pair of Air Max in my Starting Five do because of the snakeskin detailing. I had these once before, let them go, and then realized I needed them back almost as soon as I got rid of them. I haven't picked out what pair I'm gonna be rocking on Air Max Day just yet, but these are definitely a top contender."
What was your favorite pair in Dallas's Starting Five? Were you partial to one of the Air Max, or were you more fond of the Blazers or Vans? What's in your Starting Five this spring? What Minneapolis sneakerhead would you like to see us feature next? Sound off in the comments or hit us up and let us know on Twitter!
Share KicksOneTwo